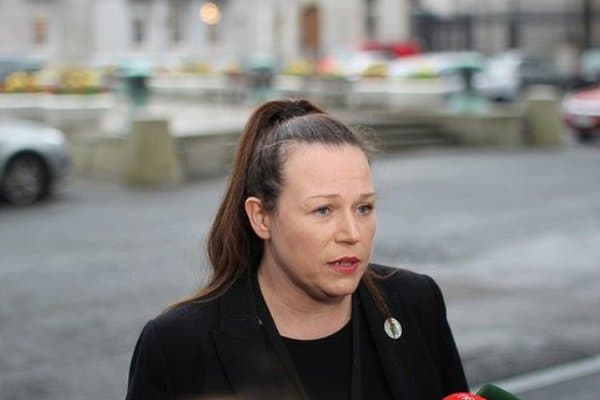 Sinn Fein has said it is to move a motion of no confidence in the Director General of the HSE, Tony O'Brien, in the wake of the cervical cancer controversy.
The party has repeatedly called for him to step down for his handling of the controversy – he insists he knew nothing about the situation until he saw it on the news last week.
Tony O'Brien only has a few months left on his contract and was due to step down anyway in July.
The government have said they think he can better serve an investigation into CervicalCheck by staying in the role.
Sinn Féin Health spokesperson Louise O'Reilly speaking from Leinster House today said;
"Vicky Phelan has called for Tony O'Brien to be sacked saying he is more concerned with defending the indefensible than doing the right thing. Sinn Féin has been forthright in its view that Tony O'Brien's position is untenable and he must not be allowed to sail off into the sunset with a golden handshake and a generous pension.
"He has presided over a scandal that has cost the lives of seventeen women so far and has caused fear and worry for the vast majority of women in the state.
"He cannot be allowed to remain in charge of the HSE when the inquiries into this scandal are ongoing.
"The culture of cover up and unaccountability in this state needs to end. The protection of the institution should not be prioritised over the welfare of our citizens any longer.
"Today we are also publishing the submission we have made to government on the inquiries to be established to look into this scandal.
"We want to see a two step process and both inquiries must be independent with international experts heading them up.
"The voices of the women have to be heard in the process.
"The decision to outsource and the work of the outsourced laboratories must also be included in scope of inquiry.
"The initial scoping/non-statutory inquiry must have full cooperation of all HSE and Department of Health staff including former staff who may have information.
"We must ensure that all relevant documentation required by inquiry is immediately preserved.
"We have drafted potential legislative changes to amend the legislation concerning the establishment of Commissions of Inquiry to generate bespoke terms of reference which will ensure that the second statutory stage of this process can be concluded in a timely manner, in public and will generate answers for the women themselves and society are seeking."