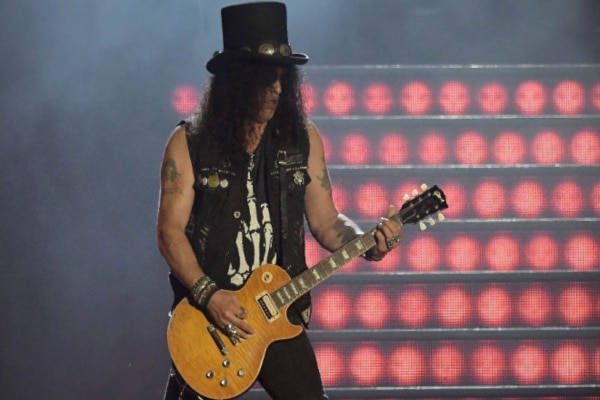 Slash has revealed that he is unsure if he ever owned a copy of Guns N'Roses debut album 'Appetite For Destruction'.
Released in 1987, 'Appetite For Destruction' has sold over 30 million copies. It is one of the best selling albums of all time.
Including tracks like 'Welcome To The Jungle', 'Sweet Child O'Mine' and 'Paradise City', the album also reached number one in the Billboard 200.
It also became the seventh best selling album of all time in the US.
"You'd hard pressed to know I was in a band"– Slash
Slash's comments come after the guitarist was asked if he owned "the original Guns N' Roses cover from 'Appetite' on vinyl".
It was at this point where Slash admitted that he does not really "collect" anything related to the records themselves.
"If you were to come to my house, you'd be hard pressed to know I was in a band", Slash revealed.
"Or at least any band you had heard of…I don't think I've ever owned the 'Appetite for Destruction' record. And even if I did, I didn't live anywhere, so I wouldn't have any place to put it!".
Speaking Of Parardise City……
Speaking of 'Paradise City', the track was latest to be covered by Rockin1000, a group of amateur musicians, communication experts, and sound engineers who come together to stage huge collaborative concerts.
They intent to honour the community of live music performances.
Along with Guns N'Roses, the band have also covered tracks from the likes of the Ramones, Oasis, Pixies, Foo Fighters, Deep Purple and others.
Their shared cover of Foo Fighters' 'Learn To Fly' has also landed 60 million views on YouTube.
The band performed their live cover of Guns N'Roses 'Paradise' at the Stade de France in Paris, celebrating their eight birthday.
You can also check that performance out, along with Nova's report for more here.