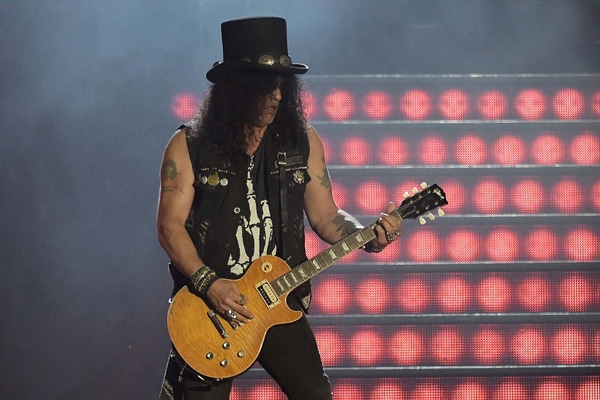 Slash has revealed that he once dressed up as a woman in order to try it on with Guns N'Roses bandmate Steven Adler. Not a setence I thought I would utter!
Slash attempted to fool the bouncers at The Rainbow, dressed in ladies clothing.
Having been turned away from the bar on several occasions when his forged fake IDs failed to cut the mustard, Slash hit upon this cunning plan to gain access to the place.
"put on an bunch of make-up"
Explaining his cunning plan in more detail, Slash had this to say.
"I was really drunk", he explained. "So I went home, and put on a bunch of make-up, and put on some of my mom's clothes, and I went back up there. And it was Ladies Night… so I got in". 
"I was going to go and pick up on Steven, because Steven would screw anything, and I thought it'd be really funny", he continued.
"So I got in, and slowly but surely I realised, 'Steven's not here…he's gone.' And this whole black cloud of reality came down. And I felt the most vulnerable I've ever felt, still to this day I've never felt like that. And then having to leave and then walk down Sunset Boulevard in a dress… it was horrible". 
This comes after Slash, Myles Kennedy & The Conpsirators performed their single The River Is Rising on television for the first time earlier this week. This track features on the band's brand new album 4, which arrives on February 11 via Gibson Records.
4 – the exclusive livestream of the album in its entirety is next Fri, Feb 11 at 11am PT. Set a reminder to be notified now. #slashnews #smkc4 #gibsonrecords https://t.co/Qfo4puOBJW

— Slash (@Slash) February 4, 2022
The band will also embark on their highly anticipated North American Tour on February 8. Find out more on this here.
Slash And His Mate Duff 
This week also saw our very own Marty Miller from [email protected] speaking to Guns N'Roses' bassist and bandmate of Slash, Duff McKagan.
McKagan and fellow Guns N'Roses bandmate Axl Rose also celebrated their birthdays over the weekend. McKagan had spoken to Marty about even buying a property in Ireland. 
Click here to hear what else Duff McKagan revealed to Marty.