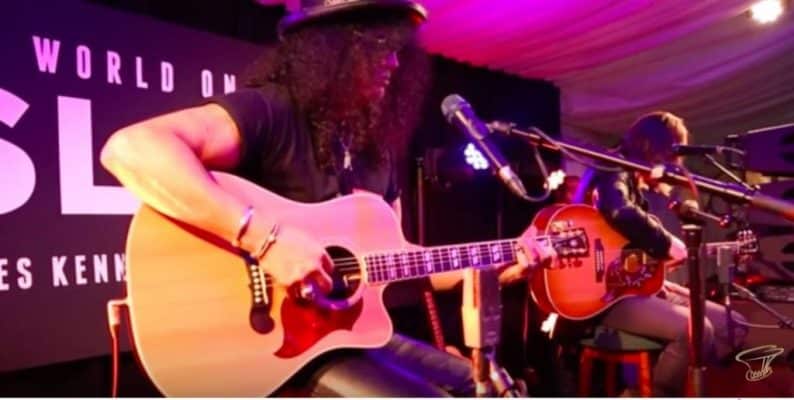 Even though Guns and Roses have a pretty hectic schedule considering their massive European Summer Tour, Slash has announced his solo band will be taking time out to rock a few festivals. Slash and Myles Kennedy and the Conspirators will be taking the stage at an event called Kabboo at the Del Mar Racetrack on the outskirts of San Diego, California the weekend of September 14th to 16th.
It's an impressive lineup that also includes former Led Zeppelin frontman Robert Plant, Foo Fighters, Stone Temple Pilots, Billy Idol and more.
Slash and the band will then play this year's Aftershock Festival at Discovery Park in Sacramento, Ca the weekend of October 13th and 14th which will also see the likes of System of a Down, Deftones and Alice in Chains.
GNR's tour will kick off on June 3rd in Berlin, Germany and conclude on July 21st in Gothenburg, Sweden. The dates will incorporate an appearance at the U.K.'s Download festival on June 9th and a June 21st headlining slot at Belgium's Graspop Metal Meeting.
Speaking about the band's Download appearance, promoter Andy Copping said, 'It's great to have this iconic line up of GUNS N' ROSES headlining at Download. I am sure I am not alone when I say I have been wanting this to happen for years. It will be an incredible show and will be one of the highlights of the Download weekend.'
GUNS N' ROSES summer 2018 tour dates:
Jun. 03 – Berlin, Germany – Olympiastadion
Jun. 06 – Odense, Denmark – Dyreskuepladsen
Jun. 09 – Donnington, UK – Download
Jun. 12 – Gelsenkirchen, Germany – Veltins Arena
Jun. 15 – Firenze, Italy – Firenze Rocks
Jun. 18 – Paris, France – Download
Jun. 21 – Dessel, Belgium – Graspop Metal Meeting
Jun. 24 – Mannheim, Germany – Maimarktgelände
Jun. 26 – Bordeaux, France – Matmut Stadium
Jun. 29 – Madrid, Spain – Download
Jul. 01 – Barcelona, Spain – Estadio Olympico
Jul. 04 – Nijmegen, Netherlands – Goffertpark
Jul. 07 – Leipzig, Germany – Festwiese
Jul. 09 – Chorzow, Poland – Stadion Slaski
Jul. 13 – Moscow, Russia – Otkritie Arena
Jul. 16 – Tallinn, Estonia – Tallinn Song Festival Ground
Jul. 19 – Oslo, Norway – Valle Hovin
Jul. 21 – Gothenburg, Sweden – Ullevi Stadium