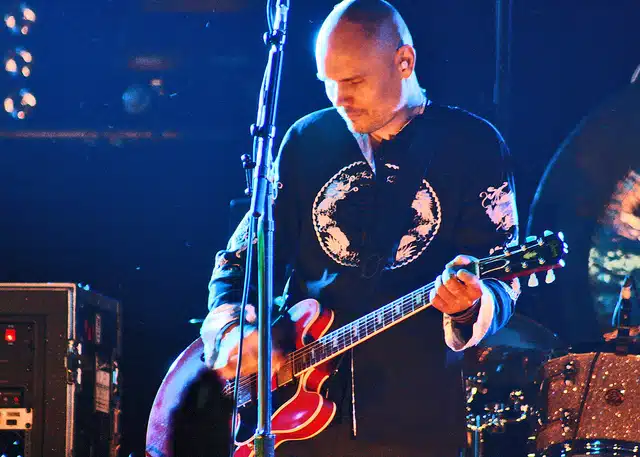 It seems the Pumpkins have been busy working on new music. Billy Corgan announced on Instagram on Friday the near completion of two separate E.P's ahead of a forthcoming feature in the New York Times.
The records are titled 'Shiny and Oh So Bright' EPs one and two. According to Corgan, the first song is due out in May as they finalise the last pieces to the recordings, 'leaving background vocals and last minute touches/flourishes/drang.' Drang being the dramatic musical dynamic that Mr Corgan is in abundance of.
Speaking of the last studio session the frontman said that recording had ended,
'last night with a truly epic sing on 'Knights of Malta' with three unbelievably talented women…probably one of my favourite experiences ever recording with Smashing Pumpkins, right up there with the strings on Tonight.'
https://www.instagram.com/p/BgGCko2gPfM/?utm_source=ig_embed&utm_campaign=embed_profile_upsell_control
A song set list was provided (see below) but it didn't clarify which songs would be on which EP.
It's hoped that the issue concerning the omission of original bassist D'arcy Wretzky will be addressed when Corgan speaks to the New York Times. D'arcy insists she was uninvited from the upcoming tour even though Corgan had apparently sent her a contract. The band released a statement denying this saying she had,
'repeatedly been invited out to play with the group, participate in demo sessions, or at the very least, meet face-to-face, and in each and every instance she always deferred.'
Meanwhile, its been reported the pumpkins reunion tour isn't selling so well and the exclusion of D'arcy from the original line up could be a factor. Bryan Rolli from Forbes magazine has argued that even though band have promised to play most tracks from their first five albums the tour will face heavy competition this summer.
Def Leppard, Bon Jovi, Depeche Mode, Journey, Cheap Trick, Poison, U2 and Jeff Lynne's ELO are all due to play major arenas across the states. There's also Ozzy's final tour, this wide array of choice will affect an older generation of rocker's willingness to fork out cash for so many gigs.
Tracklist
Solara
Marchin' On
Travels
Seek and You Shall Destroy
With Sympathy
Knights of Malta
Silvery Sometimes (Ghosts)
Alienation
The Pumkin's arena tour kicks off in Glendale, Arizona at the Gila River Arena July 12th.