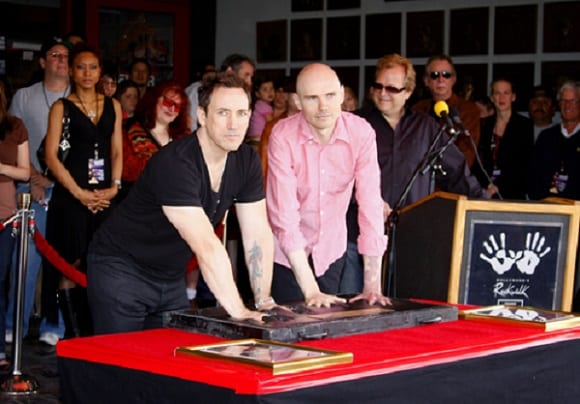 Smashing Pumpkins have released two new singles and music videos from their upcoming album 'Cyr'. The new tracks released are entitled 'Ramona' and 'Wyttch'.
The new video for 'Ramona' is directed by Linda Strawberry and is a take on the old Sergio Leone spaghetti westerns of yesteryear with a gothic twist. The music video for 'Wyttch' is a more subdued effort. You can watch both videos below.
Since the announcement of the new album, Smashing Pumpkins have been releasing singles in pairs. In August, the band released the title track and 'The Colour of Love'.
'Confessions of a Dopamine Addict', 'Wrath', 'Anno Satana' and 'Birch Grove' have all been released and are available to stream.
The new album, 'Cyr' will feature 20 songs. It was recorded and produced in Chicago by frontman Billy Corgan. It will be released on November 27th via Sumerian Records. The album is accompanied by a five part anime series called 'In Ashes'.
Speaking about the album, Corgan said "Cyr is dystopic folly". He went on to add "one soul against the world sort of stuff, set against a backdrop of shifting loyalties and sped-up time. To me it stands as both hopeful and dismissive of what is and isn't possible with faith."
It is the band's follow up to the 2018 release entitled 'Shiny and Oh So Bright, Vol.1/ LP: No Past. No Sun. No Future.' That record saw Corgan reunite with former band mates James Iha and Jimmy Chamberlin.
Smashing Pumpkins fans will also be happy to hear that Billy Corgan is performing on Halloween. The singer will be performing a live solo show in aid of Movember. To watch the show, you can make your donation here.
Tomorrow – a virtual show with @Billy. Grab your ticket by donating $9.87 to @movember https://t.co/oqLXnBwGTz
Watch tomorrow between 6 PM PT to 12 PM PT
Tickets are only available until tomorrow (Friday) at 12 PM PT pic.twitter.com/ienMueKP7s

— The Smashing Pumpkins (@SmashingPumpkin) October 29, 2020
In other Smashing Pumpkins news, it has recently been announced that the band are planning a rock opera. The new 33 track record is a follow up to 'Mellon Collie and the Infinite Sadness' and 'Machina/The Machines of God' which were released in 1995 and 2000, respectively.
Speaking on the band's YouTube channel, Corgan said, "it's kind of a rock opera. We feel like in many ways this completes the circle on everything we started and weren't able to finish at that time, so we're very excited about it"
A world tour to celebrate the new album and rock opera is to take place next year, depending on the pandemic situation.
Cyr track list:
The Colour of Love
Confessions of a Dopamine Addict
Cyr
Dulcet in E
Wrath
Ramona
Anno Satana
Birch Grove
Wyttch
Starrcraft
Purple Blood
Save Your Tears
Telegenix
Black Forest, Black Hills
Adrennalynne
Haunted
The Hidden Sun
Schaudenfreud
Tyger, Tyger
Minerva