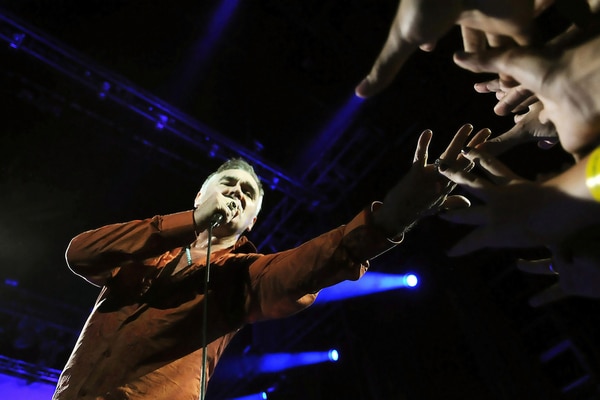 A new film based around the music of The Smiths has been given the nod of approval from Morrissey. In a short message to Morrissey Central, the lead singer said, "I laughed, I cried, I ate my own head".
Set in 1987 – Denver County, USA – the upcoming film centres around a group of friends who are massive fans of the British band. Following the band's breakup, one of the characters holds up a radio station at gunpoint, demanding songs of The Smiths to be played.
Shoplifters of the World stars Joe Manganiello, Ellar Coltrane, Helena Howard, and Elena Kampouris, and is written and directed by Stephen Kijak. Many great hit songs from The Smiths are in the soundtrack, with 20 tracks featuring from the British band's back catalogue.
Premiering in the US just last month, the film has already come in for some criticism for its bizarre plot. One person commented, "Someone appears to have thought taking the plot of the Alan Partridge film and setting it the music of The Smiths is a good idea". Many have shown their frustration of hearing the news with one adding, "How Soon is…never, please. Thanks. The world". Acclaimed film critic, Mark Kermode said, "Well, I'll say this: Shoplifters of the World is EXACTLY the movie that Morrissey deserves".
Despite the initial bad reviews on The Smiths film, Morrissey himself has given it two big thumbs up. The singer told Morrissey Central that he "laughed", "cried", and even "eaten" his own head. Morrissey went on to say, "The Smiths' past still sounds like today's frustrations and tomorrow's liberations".
Morrissey had a miserable end to 2020, following the Smiths' singer being dropped by his record label, BMG. In 2021, things might be starting to look up for the singer with the usage of The Smiths' music catalogue in this upcoming film.
After blaming diversity for his dismissal in a statement released on his website, the singer rung in the New Year with a blunt and brief message for 2021. The former Smiths frontman addressed the camera and started his message by exclaiming "to hell with 2020. To hell with it". Morrissey then repeats the message before signing off by saying "here's to tomorrow".