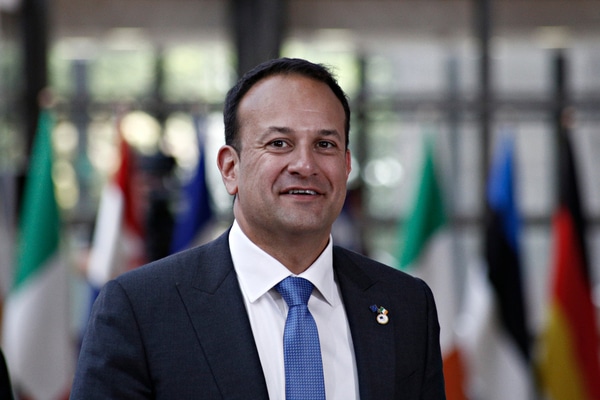 A Dublin woman will not face criminal prosecution for throwing a smoothie over the Tánaiste last September, it has emerged. According to reports, Gardaí sought a Section 2 assault charge, along with criminal damage charges for damaging Leo Varadkar's suit.
Members of Pearse Street Garda Station launched an assault investigation into an incident, which took place in Merrion Square Park, last year. The Tánaiste was being interviewed when he had the smoothie thrown at him by a young woman with a skateboard.
Following the attack, Gardaí searched for the masked woman in the city centre, while urging the video's capturer to come forward. CCTV cameras in the area were also used to track the woman's movements, as part of Gardaí's probe.
It has been confirmed that Gardaí eventually located the woman responsible, who provided a voluntary statement to the authorities. According to reports, it had taken Gardaí "several months" to locate the culprit, who resides in the Dublin area.
A case file was then later submitted to the DPP, which Gardaí used to seek a Section 2 assault charge. Although this is the lowest end of the scale of charges for assault, the smoothie thrower could also have faced criminal damage charges for damaging the Tánaiste's suit.
However, sources confirm the DPP has informed investigators that the woman should not face any criminal charges for the attack. Further investigation into the matter has now been officially closed, leaving the woman to face no penalties for her abuse.
The Tánaiste had been filming a video about the new COVID restrictions in the nearby Merrion Square Park, when the incident occurred. A video of the smoothie attack, which was later uploaded online and shared on social media, has been viewed tens of thousands of times.
When asked later about the incident, the Tánaiste said he "actually thought it was Avril Lavigne" running towards him at first. "She had the skateboard and everything, but unfortunately it wasn't her", said a bemused Varadkar, and possible fan of the skate-punk star.
Albeit fears of being hit with a smoothie, Varadkar is more hopeful when it comes to the country's economy. The Tánaiste is hopeful that Ireland's economy will return to "something close to normality" by late Summer.