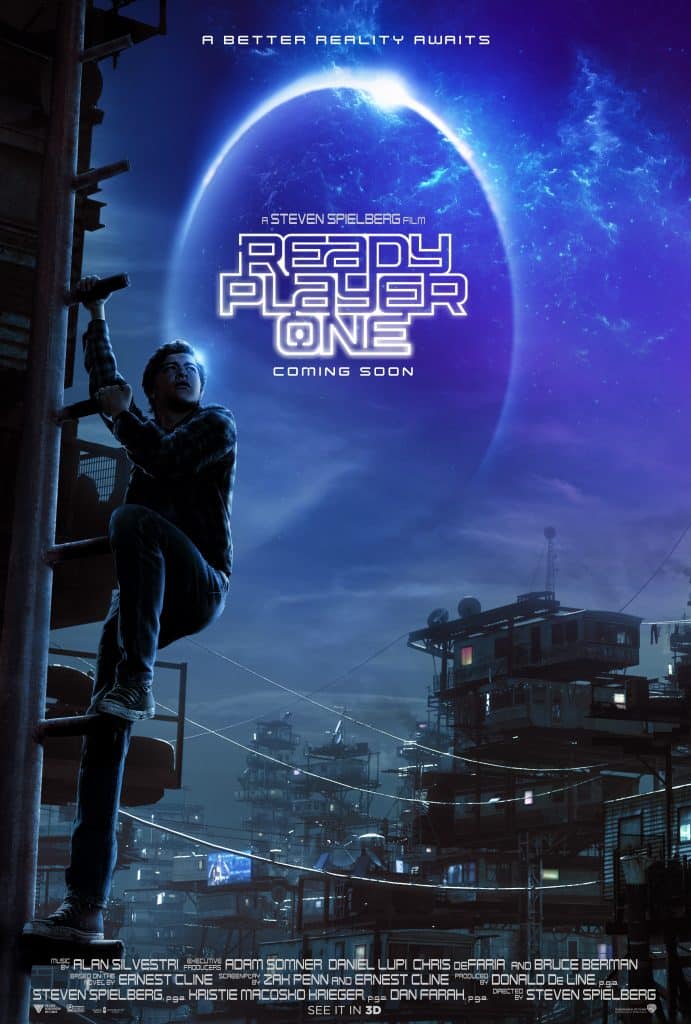 Steven Spielberg's latest work is an adaptation of Ernest Cline's novel READY PLAYER ONE. It will hit Irish cinema Screens on March 30th. Check out the trailer below!
Set in the year 2045, the world is on the brink of chaos and collapse. Thanks to an expansive virtual reality universe created by character James Halliday (Mark Rylance). When he dies, he leaves his huge fortune to whoever finds a digital Easter egg that he has hidden somewhere in the OASIS. This starts a competition which grips the entire world. But when a young hero called Wade Watts (Tye Sheridan) joins in on the contest, he is thrown into a reality-bending hunt through an amazing universe of danger, mystery and discovery.
Spielberg directed the film from a screenplay by Zak Penn and Ernest Cline. The film was produced by Donald De Line, Spielberg, Kristie Macosko Krieger and Dan Farah; with Adam Somner, Daniel Lupi, Chris DeFaria and Bruce Berman serving as executive producers.
Win the game. Change the world. #ReadyPlayerOne – In Theaters March 30. pic.twitter.com/mQZQJoRzDl

— Ready Player One (@readyplayerone) January 22, 2018
The film stars Tye Sheridan ("X-Men: Apocalypse," "Mud"), Olivia Cooke ("Me and Earl and the Dying Girl," "Bates Motel"), Ben Mendelsohn ("Rogue One – A Star Wars Story," "Bloodline") and T.J. Miller ("Deadpool," "Silicon Valley"), with Simon Pegg (the "Star Trek" movies, the "Mission: Impossible" movies) and Oscar winner Mark Rylance ("Bridge of Spies," upcoming "Dunkirk").
Behind the scenes, Spielberg ("Schindler's List," "Saving Private Ryan") reunited his creative team from "Bridge of Spies," including Oscar-winning director of photography Janusz Kaminski ("Schindler's List," "Saving Private Ryan"), Oscar-winning production designer Adam Stockhausen ("The Grand Budapest Hotel"), Oscar-winning editor Michael Kahn ("Saving Private Ryan," "Raiders of the Lost Ark") and Sarah Broshar ("The Post"), and costume designer Kasia Walicka-Maimone ("Moonrise Kingdom"). The music is by Oscar-nominated composer Alan Silvestri (the "Back to the Future" films, "Forrest Gump").
Feature Image: Warner Bros. Pictures