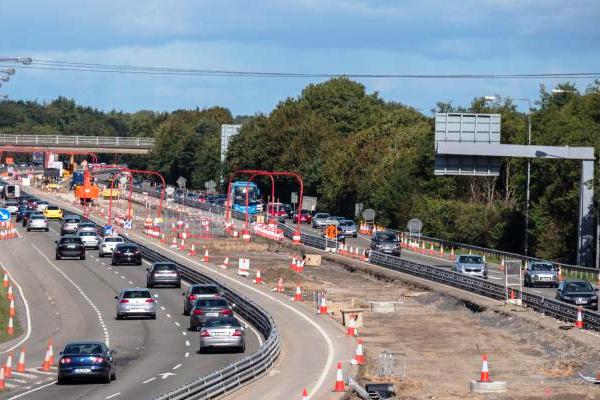 There will not be a definitive timeline on the ongoing M7 motorway upgrade.
Road improvements are due to end at the end of April, while part of the road will close this weekend as a bridge is due for demolition.
A 60 kph speed limit has been in place on a section of the motorway since 2017.
Kildare County Council's Niall Morrissey expects to have a better idea after the weekend: "We're facing into major infrastructural challenges in terms of demolition works this weekend and then the construction of the new bridge then will happen a couple of weekends later. I don't want to get people hopes up entirely that we'll be finished by a definite date, but we'll be examining how we get on this weekend."
The motorway will close from 9 o'clock tonight until Sunday evening, with traffic being diverted up new slip roads instead.
Works to widen the motorway between the M9 Interchange and Johnstown have been ongoing since 2017, leading to a 60KPH speed restriction and commuter frustration.
Niall Morrissey who's Director of Services withm Kildare County Council explains why it's essential that this weekend they demolish the old bridge near Naas.
"The particular machinery required to carry out the job have come in from the UK and were booked well in advance. If we missed this slot we would not have the machinery available to us for about seven or eight more weeks."
M7 Traffic Diversions, 29th – 31st March demolition of an existing bridge over the M7 between Junction 9 (Naas North) & Junction 10 (Naas South).Traffic will be directed around the area of works via the newly constructed off/on slips of the new interchange https://t.co/a41iyN3lpO pic.twitter.com/uXKKWkYaCP

— Kildare County Council (@KildareCoCo) March 29, 2019