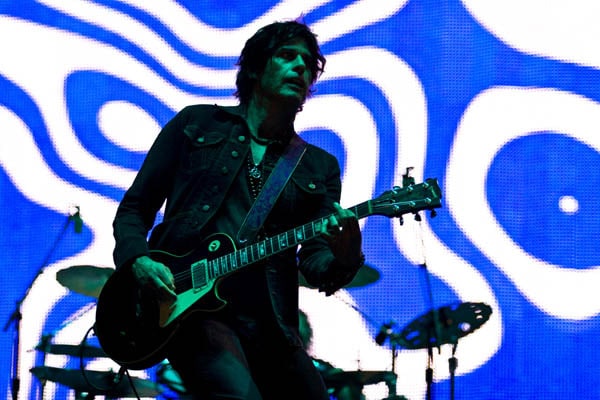 From their forthcoming self-titled album, The Stone Temple Pilots are streaming a new track 'Never Enough' (you can listen below).
It's got a bluesy rock stomp going on and is kind of like The Doors in its swagger. It also has a killer chorus and Jeff Gutt's vocals are on a par with former singer Scott Weiland.
The album marks the band's first studio record with their new singer Gutt. Finding the replacement to Weiland took a long time with over 15,000 online submissions for the job.
Bassist Robert De Leo discovered Gutt after playing a show in Detroit with the Hollywood Vampires. Which was pretty lucky for Gutt considering he hadn't even submitted an audition tape. A fan came backstage and approached Robert saying, 'You should check this guy out. He's a local guy.'
'Talk about a happy accident', De Leo continued, 'Jeff had the range to sing vocally challenging songs like 'Piece Of Pie' and 'Interstate Love Song'. But we soon discovered that he also has a great ear for melody and knew how to write a song.'
Gutt made his live debut with the group during an exclusive show at The Troubadour in West Hollywood, CA last November before Stone Temple Pilots kicked off a US tour.
Guitarist Dean De Leo is excited about the future for the band. 'The best way for us to honor our past is to keep making new music.'
'Stone Temple Pilots' is out on Atlantic records on March 16th.