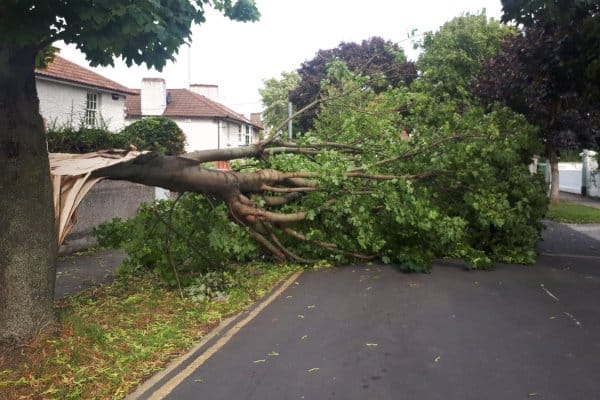 As Storm Ali crosses the country, two people have lost their lives, in separate incidents in Galway and Down.
A woman was killed after her caravan was swept off a cliff near Clifden, while a man in his 20s died and another was injured after being hit by a tree in Newry.
It is understood two men were working for Northern Ireland Water when the incident happened in Slieve Gullion Park, near Newry this afternoon.
The man who died was aged in his 20s. The injured man, who is aged in his 40s, had been taken to hospital.
A spokeswoman for the Police Service of Northern Ireland (PSNI) said:
"Police attended the sudden death of a man, aged in his 20s, in the Slieve Gullion Park, Drumintee Road area of Newry this afternoon."
The woman, believed to have been a Swiss tourist aged in her 50s, was the sole occupant of the caravan. A post-mortem is to take place on the woman's remains.
Meanwhile, 126,000 customers across the country remain without power after the storm caused widespread outages today.
ESB says that while crews continue to work on restoring power, some customers should prepare to be without electricity for up to three days.
Power has been restored to more than 60,000 homes already today as gusts of 150km/h caused trees to fall onto overhead lines.
The areas most impacted include: Cavan, Sligo, Leitrim, Donegal, Castlebar, Galway, Portlaoise, Dundalk, Mullingar and parts of North County Dublin.
Crews are working where it is safe to do so to restore power as quickly as possible. Over 1400 individual faults have been recorded across the network.
There has been severe disruption to the Luas Green Line, as trams are only running between Brides Glen-Balally and Dominick-Broombridge as teams work to untangle overhead wires struck by a tree.
Engineers are working to free a section of the tram but it is not known as yet whether full service will resume before rush hour this evening.