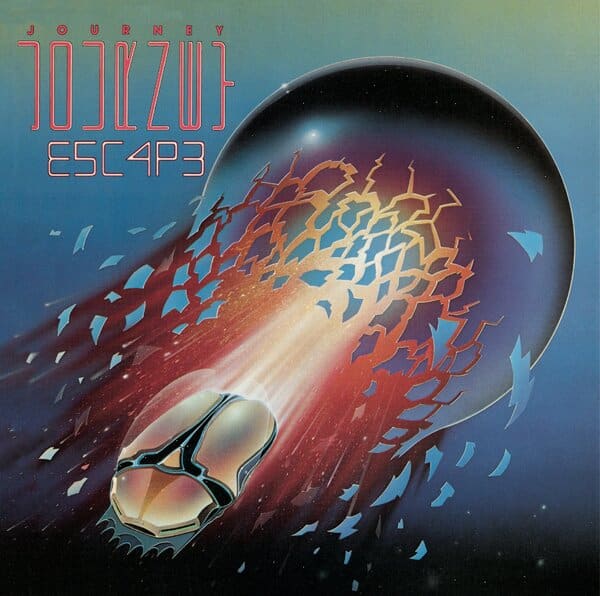 Tonight (August 26th) on the world famous Classic Album at Midnight on Radio Nova we're playing Journey's Escape.
The album is presented in full with no commercials or interruptions.
Journey's seventh studio album, Escape was the band's most successful (not including their Greatest Hits). It was a massive hit on its 1981 release and enjoyed an unexpected revival decades later thanks to a certain New Jersey based gangster TV show.
Formed in San Francisco in 1973, Journey began as a Jazz Fusion outfit with a Progressive Rock influence. Or as guitarist Neal Schon put it, Journey's early music was "self-indulgent, just jamming for ourselves."
With each new album Journey drifted more towards commercial mainstream rock. By 1978's Infinity, Journey had practically fully morphed into an MOR rock outfit, aided by the addition of vocalist Steve Perry.
Journey's fifth album, 1979's Evolution, was the first to spawn a chart single in Lovin', Touchin', Squeezin', and the following year's Departure saw its lead single Any Way You Want It reach number 23 on the Billboard Hot 100 chart.
Escape would see the band crack both the US albums and singles Top 10 charts.
Released in the US on July 31st, 1981, Escape would become the fifth highest selling album of the year Stateside, reaching number one on the album charts.
Four singles off the album charted on the Billboard Hot 100 – Open Arms (No. 2), Who's Crying Now (No. 4), Don't Stop Believin' (No. 9) and Still They Ride (No. 19).
While not released as a single, the album track Stone in Love was latched onto by DJs and has become a rock radio staple.
The album was so popular in the US it even spawned a video game spinoff for the Atari 2600 console.
Escape didn't emulate its Stateside success to the same degree on this side of the Atlantic, peaking at number 32 on the UK album chart. Nevertheless, it developed a cult following in the immediate years following its release. So much so that in 1988, readers of the British rock magazine Kerrang! voted Escape the greatest AOR (Album Oriented Rock) album of all time. A year later the same readers placed it at number 24 on a list of the greatest Heavy Metal/Alternative Rock albums of all time.
The original 1981 release of Escape features 10 tracks. On Side A are Don't Stop Believin'; Stone in Love; Who's Crying Now; Keep On Runnin'; and Still They Ride. On Side B we get Escape; Lay it Down; Dead or Alive; Mother, Father; and Open Arms.
With Steve Perry's diva-esque vocals and operatic guitar and keyboard solos from Neal Schon and Jonathan Cain respectively, Escape likely jarred with the punk rock sensibilities of Europe in the early '80s. But while many scoffed at its over-the-top production at the time, the album, and indeed Journey themselves, have found a new audience that enjoys the music for its feelgood spirit, embracing its flamboyance.
This new audience emerged in 2007 when Don't Stop Believin' made an iconic appearance in the final ever episode of acclaimed mob drama The Sopranos. The song immediately became an end of the night staple in nightclubs around the world and was impossible to avoid for the next few years. By summer 2009 the single had been downloaded legally over three million times. In 2010 the song made an appearance in musical TV drama Glee, returning to the charts once again. In Ireland it reached number four on the singles chart.
Unless you were born yesterday, you'll be familiar with Don't Stop Believin'. Tonight at midnight on Radio Nova you have the chance to hear the album that spawned it in full.