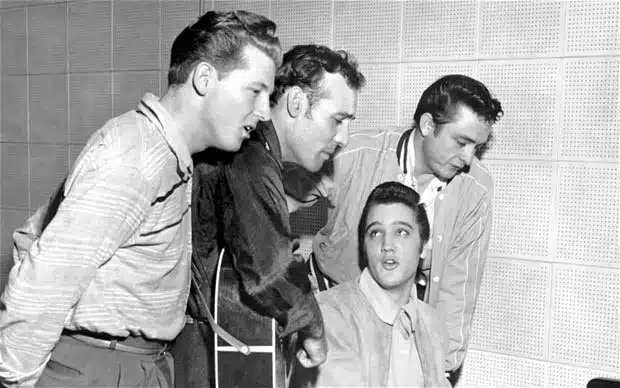 Every day on Radio Nova, just before 11am, we play a couple of songs key to "today in music history" Have a listen! But for now – here's some light reading and watching. August 16th  in Music History looks like this.
1962, Little Stevie Wonder (aged 12), released his first single, 'I Call It Pretty Music, (But The Old People Call It The Blues)', the single featured Marvin Gaye on drums.
1968, Working at Abbey Road studios on The White Album, The Beatles recorded 14 takes of the new George Harrison song 'While My Guitar Gently Weeps', taking the song from its early acoustic version into an electric version.
Then in 2004 this cover happened. With Prince. It's stunning
1975, Peter Gabriel announced that he was leaving Genesis. The group auditioned more than 400 singers during the next 18 months before deciding that Phil Collins, who had been the drummer for Genesis since 1970, could front the band.
1977, Elvis Presley was found dead lying on the floor in his bathroom.
1981, The first ever Slane Castle concert happened. Thin Lizzy headlined.
1983, After being together for six years, Paul Simon married actress Carrie Fisher – Marriage lasted less than 2 years.
Today in 1986, Rick Allen of Def Leppard made his return to the band after losing his arm in an accident. At Monsters Of Rock in Donington.
2018, The lady of soul who became from humble beginnings and ended up part of the fabric of the world.. Aretha Franklin passes away at 76.
2019, A bandstand where David Bowie played soon after the release of his first hit single 'Space Oddity' was given a Grade II listing. The singer performed from the stand to a small audience in Croydon Road Recreation Ground on 16 August 1969.
Finally, happy birthday to Tim Farris of INXS!
Don't forget you can now get This Week in Music History from Nova.ie and Radio Nova.
To subscribe to the podcast, just click here