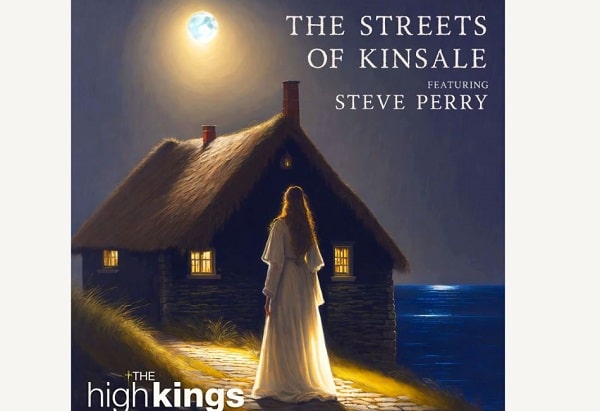 Would you like to listen to the article instead of reading it?
The High Kings are to release a brand new single from their forthcoming studio album.
The band which consists of members Finbarr Clancy, Brian Dunphy, Paul O'Brien, and Darren Holden, will release their latest single 'The Streets Of Kinsale', which will arrive tomorrow (April 28).
The track itself, tells a love story based in Kinsale, and deals with the simplicity and complexity of this love story simultaneously.
Another appealing element to this track, is the fact that the High Kings are collaborating with none other than former Journey lead singer Steve Perry, who produces and sings vocal harmonies on this tune.
'The Streets Of Kinsale' will also see two generations of music legends coming together in this collaboration, with Perry joining forces with The High Kings, one of Ireland's most successful folk music groups.
Ahead of releasing this new single, Steve Perry explained to Radio Nova's Marty Miller how this single came about. Check out that chat here.
"an absolute honour"
As Perry mentioned, the track also sees the High Kings collaborate with the Script's Glen Power. The Script drummer also writes and produces this track alongside Perry.
"Bringing the iconic story of The White Lady of Kinsale to life through music was an absolute honour", Power said.
"Having been in Kinsale many times, I knew the story, but when the melody came into my head at first, I knew it had to be married to her story. The inspiration to write it came so suddenly it almost seemed like fate and it wrote itself. It already sounded timeless".
Glen Power himself also recently paid tribute to the late Script guitarist and bandmate Mark Sheehan, who passed away earlier this month aged 46.
Sheehan who served as guitarist for the Script since their formation in 2001, passed away following a short illness in hospital.
Power paid this emotional tribute to Sheehan via Instagram.