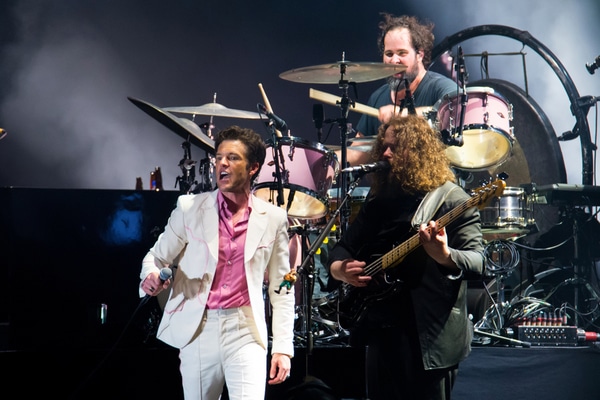 The Killers have released a teaser clip ahead of the unveiling of their upcoming album "Pressure Machine". You can check out for yourselves below.
New album for the Killers due in August
The band confirmed the released of their seventh studio album last week. It is due for release via EMI on August 13.
The album was due for release last year, but like most things it was put on hold due to the pandemic.
"Everything came to this grinding halt", frontman Brandon Flowers said.
"And it was the first time in a long time for me that I was faced with silence. And out of that silence this record began to bloom, full of songs that would have otherwise been too quiet and drowned out by the noise of typical Killers records".
Flowers also explained how the album was inspired by his time growing up in Nephi-Utah.
"Had it not been for advancements in the automotive industry, Nephi in the '90s could have been the 1950s", he said. "I discovered this grief that I hadn't dealt with".
He also added, "Many memories of my time in Nephi are tender. But the ones tied to fear or great sadness were emotionally charged".
"I've got more understanding now than when we started the band, and hopefully I was able to do justice to these stories and these lives in this little town that I grew up in".
More on that here.
"Everyone is trying to escape something"
Taking to Instagram recently, the band posted the video which shows a car driving through the city of Eureka in Juab County, Utah. Snapshots of buildings in disrepair such as graves, open roads and oil rigs are captured.
The teaser clip also contains soundbites of people dicussing issues such as drug addiction and their belief in a higher power.
"Everyone is just trying to escape something", one person can be heard saying. Towards the end of the video, a towering vocal can be heard over an old school organ before it turns into a "80s inspired neon soundscape".
The video concludes with a car which drives past the famous art and antiques store Schauerhaus Studiowerx. This is located inside the iconic McCormick and Company Bank Building on West Main Street.
Check out the clip here.
https://www.youtube.com/watch?v=JvvNqomIERY