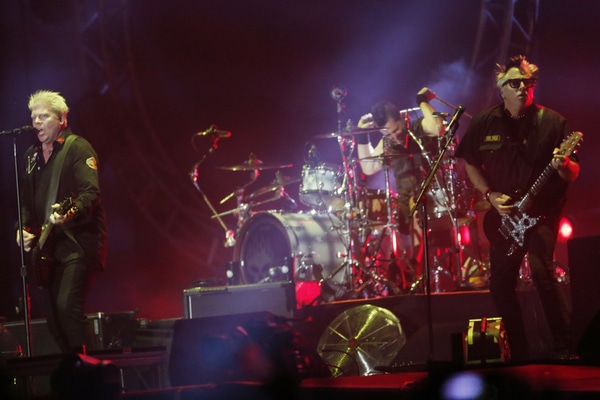 The Offspring have parted ways with drummer Pete Parada amid an apparent disagreement over COVID-19 vaccines.
Parada, who has been a member of The Offspring since 2007, claims he left the band due to his decision not to get vaccinated. The drummer says he was following the advice of his doctor.
The musician took to Instagram to reveal his split with the band.
"I've got some unfortunate and difficult news to share," he wrote as he broke the news to his fans.
Parada said his choice to turn down the vaccine has left him "unable to comply with what is increasingly becoming an industry mandate. It has recently been decided that I am unsafe to be around, in the studio and on tour."
"You won't be seeing me at these upcoming shows," he lamented.
Parada claims he's acting on the advice of his doctor, who told him "not to get a shot at this time." The doctor's decision was apparently influenced by Parada's personal medical history and the "side-effect profile of these jabs."
The drummer explained how he had contracted the virus in 2020. He now believes the vaccine poses more of a threat to his health than a second bout of COVID-19.
"I caught the virus over a year ago, it was mild for me – so I am confident I'd be able to handle it again, but I'm not so certain I'd survive another post-vaccination round of Guillain-Barré Syndrome, which dates back to my childhood and has evolved to be progressively worse over my lifetime," he revealed. "Unfortunately for me, (and my family – who is hoping to keep me around a bit longer) the risks far outweigh the benefits."
Parada's split from The Offspring has yet to be acknowledged by his bandmates. He made sure to let fans know that he doesn't hold any ill feelings towards the rest of the group.
"I have no negative feelings towards my band," he said. "They're doing what they believe is best for them, while I am doing the same."
Parada went on to say that he hoped his actions would highlight the threat he believes the vaccine poses many others.
"There are countless folks (like me) for whom these shots carry a greater risk than the virus," he said. "Most of us don't publicly share a private decision we made in careful consideration with our doctors. We know it's not an easy conversation to unfold."
The drummer referenced the growing divisions between those who support and oppose the vaccine.
"I hope we can learn to make room for all the perspectives and fears that are happening currently," he said. "Let's avoid the unfortunate tendency to dominate, dehumanise and shout down at each other. The hesitant population is not a monolithic group. All voices deserve to be heard."
The Offspring released their tenth album, Let the Bad Times Roll, earlier this year. Parada played drums on every one of its tracks. Whether that will be the last time he features with the band remains to be seen.
View this post on Instagram