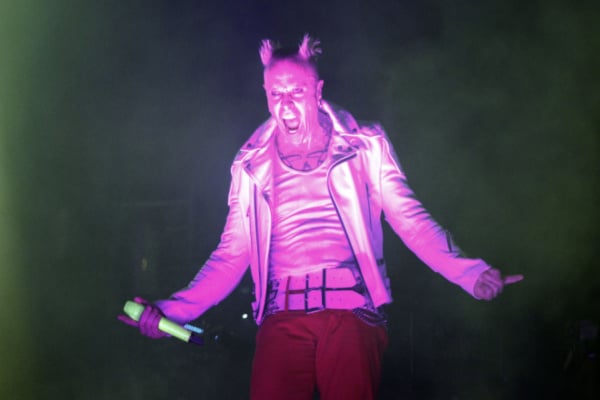 The Prodigy paid a special tribute to Keith Flint with a very poignant performance of their track, 'Firestarter', as part of a live tour across England this month.
The band firstly announced these shows back in March, their first live performances since Flint's death. Flint died from suicide in 2019. He was 49 years old.
Announcing that these shows "were for Flinty", the Prodigy kicked off this tour across England, with two live shows at Sheffield's O2 on July 8 and 9. More on this here.
"It's been a long time f*****g coming", the band's Liam Howlett told the audience on the opening night.
The band later took to social media, thanking the fans for support.
"We wanna thank every one of u that came out and supported us, this ment [sic] so much to us, the whole place blew the f** up and it was a night we will never forget", they wrote.
"still f****** with us right now"
This week saw the Prodigy perform three shows at London's 02 Academy in Brixton, where they paid a special tribute to their late frontman.
The Prodigy beamed a laser outline of Keith Flint that moved in time to the music. It also reportedly included an outro which incorperated Andy C's remix of the 1996 hit.
Prodigy co founder Maxim stood with his arms folded during this performance as a mark of respect.
"He's still-f******-with us right now", Maxim told the audience, when this performance ended. "He's still here! Mr Flint f****** lives on in here!".
"Thankyou for the continued luv and support, we luv all m********s, Now let's F***** do it again!".
Check out this footage for yourselves below.
Following another live show at London's 02 last night (July 22), the Prodigy will conclude this tour tonight at the same venue (July 23).
This tour also coincided with the 25th anniversary of the band's album, 'The Fat Of The Land'.