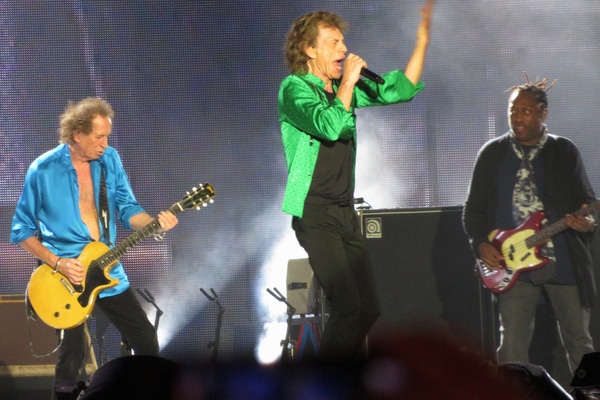 The Rolling Stones have hinted at an upcoming UK and European Tour.
Taking to Instagram, the band posted a video showing a map of the UK and Europe which was dotted with the Rolling Stones iconic logo. It was also lit up with several locations, including London.
They also added the caption, "Can't You Hear Me Knocking". Check it out in full here.
The Rolling Stones' No Filter Tour
Last September, the Rolling Stones paid tribute to their famous drummer Charlie Watts when kicking off their long awaited No Filter Tour. Watts passed away last year aged 80.
While on stage, photographs of Watts flashed across a giant set during their performance.
Stones' lead singer Mick Jagger had already addressed the crowd.
"This is our first-ever tour we've ever done without him. We'll miss Charlie so much, on and off the stage", he told them.
The Rolling Stones also dedicated their track "Tumbling Dice" to Watts. This live performance also saw the band perform their songs "Start Me Up", "Sympathy For The Devil", "Paint It Black" and "Gimme Shelter".
The tracklist from the Rolling Stones performance is as follows.
'Street Fighting Man'
'It's Only Rock 'N' Roll (But I Like It)'
'Tumbling Dice'
'Under My Thumb'
'19th Nervous Breakdown'
'Wild Horses'
'You Can't Always Get What You Want'
'Living In A Ghost Town'
'Start Me Up'
'Honky Tonk Women'
'Happy'
'Slipping Away'
'Miss You'
'Midnight Rambler'
'Paint It Black'
'Sympathy For The Devil'
'Jumpin' Jack Flash'
'Gimme Shelter'
'(I Can't Get No) Satisfaction'
Later that same month, the Rolling Stones also shared a previously unreleased track "Troubles A-Comin".
This song was included on the 40th anniversary celebration of the band's 1981 album "Tattoo You". This special edition arrived the following month and also featured nine extra songs from the "Lost & Found: Rarities" disc. More on this here.