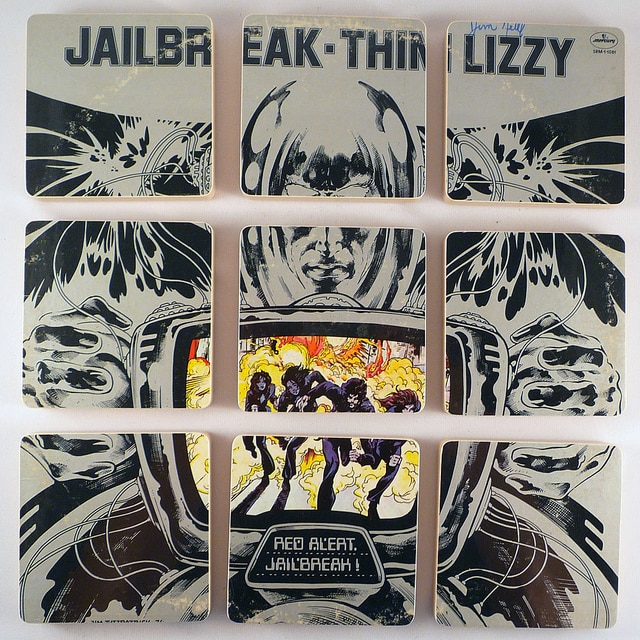 Jailbreak is the sixth studio album by Thin Lizzy, which was released in 1976. It proved to be the band's commercial breakthrough in the US. The singles include 'Jailbreak' and 'The Boys are Back in Town', the latter being Thin Lizzy's biggest hit.
Initially, the song 'Running Back' was chosen to be a single ahead of 'The Boys Are Back in Town', the latter being seen as possibly too aggressive for some radio stations to play. Frontman and songwriter Phil Lynott and producer John Alcock decided to employ session musicians to add more commercial elements to some of the tracks to try to produce a hit single, and Tim Hinkley was brought in to add keyboard parts to 'Running Back'.
Guitarist Brian Robertson was against the idea, as he liked the song as it had originally been arranged, in a blues format with his own additions of piano and bottlekneck guitar. He later said, "I took enormous offence to [the changes]. I couldn't understand why they'd pay this guy a fortune just for playing what he did. Listen to it and tell me it's not bollocks.
Stephen Thomas Erlewine of Allmusic described Jailbreak as a "truly exceptional album", with "a dimension of richness that sustains, but there's such kinetic energy to the band that it still sounds immediate no matter how many times it's played". Highlighting Lynott's songs as "lovingly florid… crammed with specifics and overflowing with life", he claimed that Gorham and Robertson's guitar work is "intertwined, dual-lead guitar interplay that was one of the most distinctive sounds of '70s rock".
A reviewer for Sputnikmusic took the view that nearly every song on the album is "a pure, hard rocker with little to no flaws", picking out the "killer groove" of 'Angel from the Coast', the "infamous" 'The Boys Are Back in Town' and the "gritty"title track. He also claimed that 'Cowboy Song' is "arguably one of the best songs Thin Lizzy ever produced".
Tracklist
1. Jailbreak
2. Angel from the Coast
3. Running Back
4. Romeo and the Lonely Girl
5. Warriors
6. The Boys Are Back In Town
7. Fight of Fall
8. Cowboy Song
9. Emerald
Photo Credit: Mary McCoy