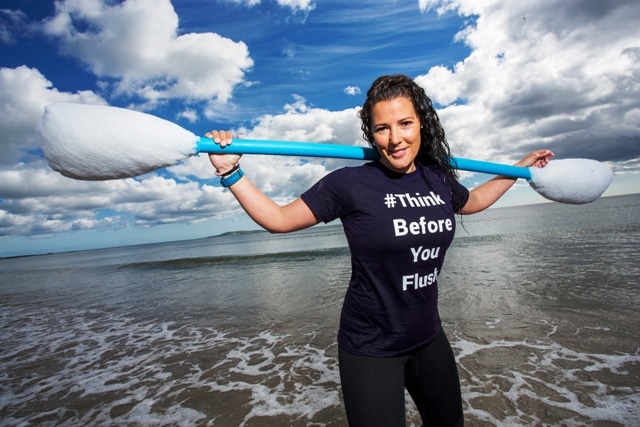 Clean Coasts together with Irish Water launch 'Think Before You Flush' after an eye-watering 4,600 sewer blockages were reported this year owing to flushing poorly thought out items.
When the 3 Ps (pee, poo and paper) are flushed down the toilet they travel along the sewer network to wastewater treatment plants.
However, when flushing the likes of wet wipes, cotton bud sticks, nappies and cotton wool pads down the john, these items can have a negative impact on internal plumbing, the wastewater network and our marine environment.
Fifteen areas have been selected to become Think Before You Flush Communities. They will receive educational workshops in schools; promoting the campaign at festivals and community events and helping to raise awareness and provide advice.
The 15 Think Before You Flush Communities include …….
Dublin City; Blackrock, Co. Louth; Navan, Co. Meath; Maynooth, Co. Kildare; Tullamore, Co. Offaly; Cork City; Dunmanway, Co. Cork; Bantry, Co. Cork; Tramore, Co. Waterford; Waterford City; Galway City; Ahascraugh, Co. Galway; Strandhill, Co. Sligo; Belmullet, Co. Mayo; and Bundoran, Co. Donegal.
Speaking about the campaign Corporate Affairs Manager of Irish Water and Engineer Kate Gannon said,
"Irish Water is delighted to partner with Clean Coasts on this important educational campaign. Irish Water estimate that there have been over 4,600 sewer blockages across the country this year already. The size and scale of the impact of flushing the wrong items down the toilet is incredible."

"Irish Water is investing in wastewater infrastructure right across the country. We are building new wastewater treatment plants, upgrading old plants and laying new sewers. However, it is still really important that people recognise the impact of what they flush so the network can function efficiently and effectively. Placing a bin in the bathroom and disposing of sanitary items safely and appropriately has a hugely positive impact on the network and the environment."
Speaking about the campaign; Sinead McCoy, Clean Coasts Manager added,
"Sewage related litter is one of the categories of waste we find on our beaches however its presence is preventable through some simple measures. Through this campaign we are working with Irish Water to change the nation's flushing behaviour which will make a difference to our coastal environment."
For more information about 'Think Before You Flush' please visit www.thinkbeforyouflush.org