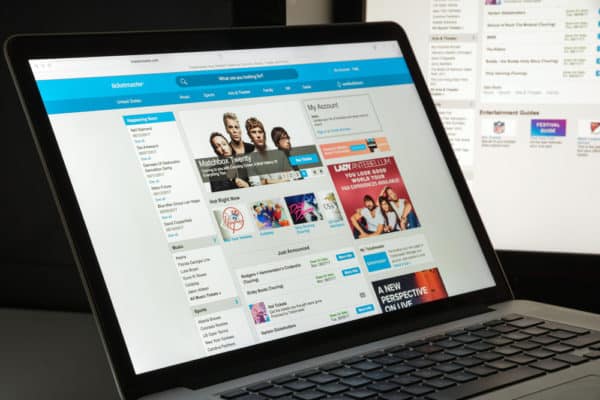 Ticketmaster is closing its secondary ticketing websites Seatwave and Get Me In.
The websites, which facilitate the reselling of unwanted tickets, have regularly been exploited by people claiming to be professional sellers who sell at exorbitant prices.
The move comes just weeks after the Cabinet approved new legislation to ban ticket touting, , something we campaigned for here at Radio Nova with a petition signed by nearly five thousand listeners last year.
The proposed legislation would make it illegal to resell tickets above face value for events in venues that hold over 1,000 people.
In a statement, Andrew Parsons, head of Ticketmaster UK said, "We know that fans are tired of seeing others snap up tickets just to resell for a profit on secondary websites, so we have taken action," Instead, you will be able to sell tickets directly from the Ticketmaster site, where with a single click a person can release tickets back into the market. Different to the current system, you will only be permitted to charge for the original cost of the ticket or less. There will, however, be a 15% surcharge on every ticket to handle the booking fees paid by the seller.
Ticketmaster also promised to be completely transparent regarding the difference between new and tickets that are being resold. When a user chooses seats for a concert, theatre or sporting event, the seat map will display standard tickets in blue and second-hand tickets in pink.
The move to close down Seatwave and Get Me In has happened one month after the Irish government backed a bill that would prohibit the resale of tickets for more than face value. In the UK, the Competition and Markets Authority conducted an investigation into the secondary market and stated it is considering legal action against the Swiss-based firm Viagogo.
In light of this proposed legal action, Ticketmaster may have decided to get out of the market ahead of any implications. The decision also undercuts fan-to-fan ticket exchanges like Twickets and Scarlet Mist which cap resale prices at 10% above face value. "Closing down our secondary sites and creating a ticket exchange on Ticketmaster has always been our long-term plan," said Ticketmaster's Andrew Parsons in a blog post. Selling tickets through Ticketmaster is really simple: We do all the hard work and outline the maximum that can be charged for the ticket – and it doesn't cost fans a penny to sell them."
Some of the changes take effect immediately. From today,13th August, there will be no new events listed on Get Me In or Seatwave. The sites will close permanently in October in the UK and Ireland, and later in the year for the rest of Europe.
You contacted us in droves, fuming after thousands of tickets turned up on resale websites within seconds of the last year's U2 Croke Park selling out; with some selling for over €1,000.
We took our signed petition to Fine Gael's Noel Rock in parliament back in January 2017 to support a bill being introduced and now the Government has said it will support and amend the Prohibition of Above-Cost Ticket Touting Bill introduced by deputies Stephen Donnelly & Noel Rock who explained to Marty Miller how it will work…
https://www.facebook.com/radionova100/videos/10155860088563667/
The proposed legislation would ban the above-face value resale of tickets for sporting and entertainment events in designated venues with a capacity of 1,000 or over.
It would also prohibit the use of bot software to purchase tickets in excess of the number permitted by event organisers.
The legislation will also give effect to the commitment given to UEFA to ban the unauthorised transfer and use of tickets for matches and official events taking place in Ireland during the EURO 2020 Championship.
In order to implement these measures, the Government will support and amend the Prohibition of Above-Cost Ticket Touting Bill introduced by Deputy Noel Rock and Deputy Stephen Donnelly.
Heather Humphreys T.D. said:
"It's wrong that people who make no contribution to sport or music can profit from the resale of tickets for sell-out matches and shows. In doing so, they deprive genuine fans of the opportunity to attend these events, and the time has come to put a stop to it."

"I am confident that this Bill will have the support of the main sporting bodies, of many artists and promoters in the entertainment industry, and of music and sports fans right across the country. It is also a tangible example of new politics at work and in that regard I want to acknowledge the efforts of Deputies Noel Rock and Stephen Donnelly, who have engaged constructively on this matter so we can bring forward workable proposals which will benefit genuine fans. I look forward to continuing to work with both Deputies and our Oireachtas colleagues in progressing this Bill."
Deputy Stephen Donnelly said:
"For too long, genuine music and sports fans have been ripped off by organised ticket touting. While there has always been some low-level touting, the move to online sales and 'bots' has brought ticket touting to an industrial scale. Recent assertions to a Westminster committee link some of this to organised crime, based partly in Ireland. Time and time again, fans are being told that all tickets are sold out on the primary sales website, while almost immediately being able to buy those same tickets at much higher prices on other websites. Fans suffer, as to artists and sporting bodies. This legislation is a strong move to protect fans, artists and sporting bodies, and I very much look forward to getting it through the Oireachtas and into law as quickly as possible."
Deputy Noel Rock said:
"With this legislation accepted by Cabinet, Ireland is set to take the lead in effectively banning ticket touting, subject to the approval of the Dáil. The legislation proposed is ambitious and sensible: it ensures an effective ban on ticket touting and also a ban on bots from snapping up tickets. I have no doubt that for sports and music fans, this legislation will be a game changer. It's now my ambition that, should this Bill be passed by the Dáil and become law in Ireland, we see other nations across Europe replicating it. For a backbencher, getting a Bill before Cabinet has been a new challenge, but one which was aided by Minister Humphreys' support and foresight."
Don't forget you can keep up-to-date on all things Nova over on our Instagram page – follow us for all the craziness of radio life coupled with news, sports and LOTS of cool competitions! Click here…