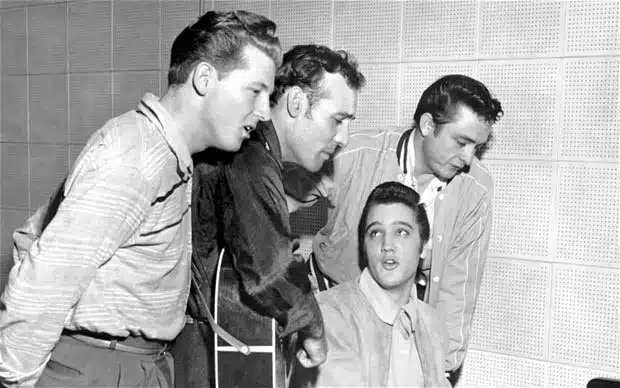 Would you like to listen to the article instead of reading it?
Every day on Radio Nova, just before 11am, we play a couple of songs key to "today in music history" Have a listen!
1956 Elvis Presley played the first of two nights in San Diego Arena in San Diego, California. The local Police chief issued a statement saying if Elvis ever returned to the city and performed like he did, he would be arrested for disorderly conduct. In case you didn't notice, Keith Flynn put this up and he wants you to know it!
1970 Crosby Stills Nash & Young went to No.1 on the US album chart with Deja Vu. This was the first album which saw Neil Young joining Crosby, Stills and Nash.
1981 No accounting for taste. Bucks Fizz won the Eurovision Song Contest held in Dublin, with the UK entry 'Making Your Mind Up'.
1987 U2 entered the US album chart at No.7 with The Joshua Tree making it the highest chart new entry in America for seven years.
2007 A Swedish couple ran into trouble with authorities after trying to name their baby Metallica. The six-month-old had been baptised Metallica, but tax officials said the name was "inappropriate". Under Swedish law, both first names and surnames need to win the approval of authorities before they can be used.
2013, Former Rolling Stones bassist Bill Wyman turned himself in to British police in relation to reports that he'd begun a sexual relationship with his second wife, Mandy Smith, when she was 14 years old. It was decided not to pursue any charges. They married and split in 1989.
2019, "Pretty Green" Liam Gallaghers clothing line was saved from administration by the JD Sports group.
April 4th birthdays include Muddy Waters, Gary Moore and Johnny Borrell of Razorlight.
Don't forget you can now get This Week in Music History from Nova.ie and Radio Nova.
To subscribe to the podcast, just click here