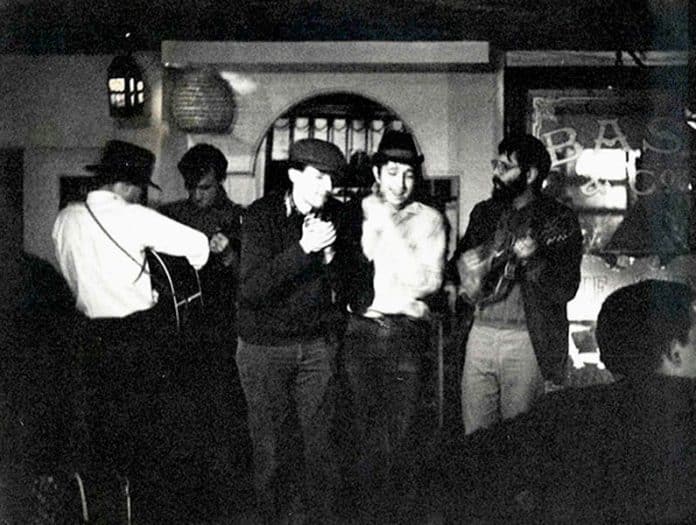 Every day on Radio Nova, just before 11am, we play a couple of songs key to "today in music history" Have a listen! But for now – here's some light reading and watching.  December 17th in Music History looks like this.
Lets kick off in 1962, Bob Dylan arrived in England for the first time; he played his first UK date the following night at the Troubadour Club in London.
1968, The Who played their Christmas party at the The Marquee Club London. Also on the bill was a new group called Yes. Members 15 shillings, or £1 on the night. Other acts appearing at the club this month included Joe Cocker, Free and Led Zeppelin.
1971, David Bowie released his fourth album Hunky Dory, which was the first to feature all the members of the band that would become known the following year as Ziggy Stardust's Spiders From Mars.
1973, Slade were at No.1 on the UK singles chart with 'Merry Xmas Everybody' their sixth chart topper. It has been released during every decade since 1973.
1977, George Harrison played an unannounced live set for the regulars at his local pub in Henley-On-Thames near his home in the UK.
2004, Elvis Presley's daughter Lisa Marie Presley agreed to sell 85% of the Elvis estate to businessman Robert Sillerman in a deal worth $100m. Sillerman would run Presley's Memphis home Graceland and own Elvis' name and the rights to all revenue from his music and films. In the deal Lisa Marie would retain possession of Graceland and many of her father's 'personal effects.'
2015, A London judge said he was concerned at how much Liam Gallagher and his ex-wife Nicole Appleton were spending in a legal dispute over how their assets should be split after it was revealed that the pair had spent over £800,000 on legal fees. Judge O'Dwyer decided their money and property should be divided equally, with each receiving £5.4m.
Don't forget you can now get This Week in Music History every Friday from Nova.ie and Radio Nova.
To subscribe to the podcast, just click here