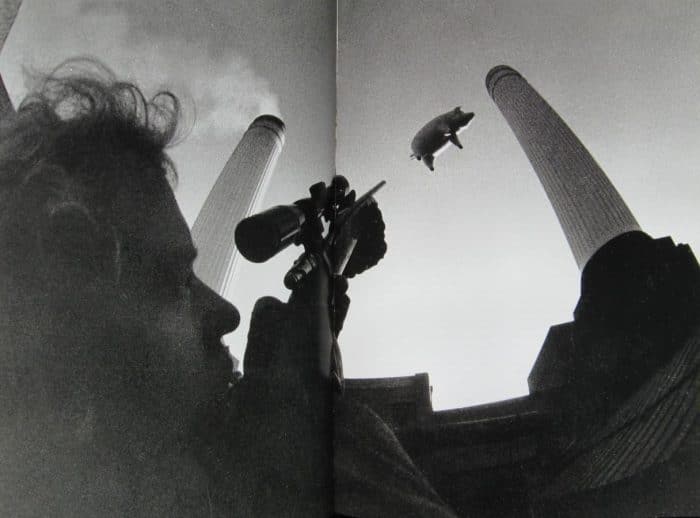 Every day on Radio Nova, just before 11am, we play a couple of songs key to "today in music history" Have a listen! But for now – here's some light reading and watching. December 2nd in Music History looks like this.
1957, Al Priddy a DJ on US radio station KEX in Portland was fired after playing Elvis Presley's version of 'White Christmas' The station management said, 'it's not in the spirit we associate with Christmas'.
1976, The first day of the photo shoot for Pink Floyd's Animals album cover took place at Battersea Power Station in London, with a giant inflatable pig lashed between two of the structure's tall towers. A trained marksman was hired ready to fire if the inflatable escaped. Unfortunately the following day the marksman hadn't been rebooked, so when the inflatable broke free from its moorings, it was able to float away, eventually landing in Kent where it was recovered by a local farmer, reportedly furious that it had 'scared his cows.'
1978, Rod Stewart was at No.1 on the UK singles chart with 'Da Ya Think I'm Sexy', the singers fifth UK chart topper. A plagiarism lawsuit by a Brazilian musician confirmed that the song had been nicked from him! Stewart agreed to donate all his royalties from the song to United Nations Children's Fund.
1983, MTV aired the full 14-minute version of Michael Jackson's Thriller video for the first time. Now regarded as the most influential pop music video of all time.
2002, Liam Gallagher was arrested and charged with assault after he Kung-Fu kicked a police officer in Munich, the singer lost his two front teeth in the scrap and a band minder was knocked out cold.
2012, Led Zeppelin received an award from Barack Obama for their significant contribution to American culture and the arts. Robert Plant, John Paul Jones and Jimmy Page were all present as they received their Kennedy Center Honours.
2014, American saxophone player Bobby Keys died, best known as being the main saxophone player for The Rolling Stones.
2021, Richard Cole died at age 75. He was Led Zeppelin's tour manager from '68 to 1980.
Don't forget you can now get This Week in Music History from Nova.ie and Radio Nova.
To subscribe to the podcast, just click here