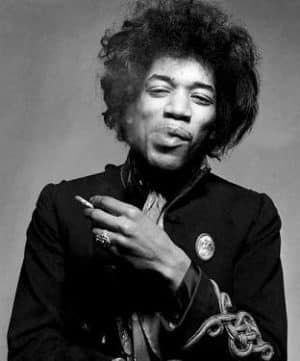 Would you like to listen to the article instead of reading it?
Today in music history January 3rd looks like this!
1969, Appearing live on The Lulu TV show at the BBC , The Jimi Hendrix Experience were booked to perform two songs, Voodoo Child, (which was performed in full), then Hendrix stopped performing his new single 'Hey Joe' after a verse and chorus and instead launched into a version of the Cream song 'Sunshine Of Your Love' as a tribute to the band who had split a few days earlier. Hendrix then proceeded to continuing jamming, running over their allocated time slot on the live show, preventing the show's host Lulu from closing the show properly.
1972, Two weeks of rehearsals for Pink Floyd's The Dark Side of The Moon tour began in London.
1976, Bob Dylan's song, 'Hurricane', peaked at No.33 on the Billboard singles chart, helping to cause enough publicity to eventually get former boxer Rubin 'Hurricane' Carter released from jail in 1985!
1987, Aretha Franklin became the first woman inducted into the Rock and Roll Hall of Fame. Sadly Aretha couldn't make the night so she's inducted by a whole pile of blokes!
2014, Phil Everly, one half of the Everly Brothers, died of complications from lung disease aged 74, in California.
2021, English musician Gerry Marsden died age 78 after being diagnosed with a blood infection in his heart. He was the Gerry in Gerry & The Pacemakers.
Happy Birthdays:
1926, Born on this day, George Martin, English record producer, arranger, composer, conductor, audio engineer and musician.
1945, Born on this day, American singer, songwriter Stephen Stills who was a member of Buffalo Springfield, Crosby Stills Nash & Young and Manassas
1946, Born on this day, John Paul Jones, bass, keyboards, producer with Led Zeppelin . As a session player in the 1960s he worked with The Rolling Stones,The Yardbirds, Donovan, Jeff Beck, Hermans Hermits, Lulu & Tom Jones
Don't forget you can now get This Week in Music History from Nova.ie and Radio Nova.
To subscribe to the podcast, just click here