Every day on Radio Nova, just before 11am, we play a couple of songs key to "today in music history" Have a listen! But for now – here's some light reading and watching. July 15th in Music History looks like this.
1972, Elton John started a five week run at No.1 on the US album chart with 'Honky Chateau'.
1973, The Kinks were part of a festival In White City, west London. With his wife having recently left him, taking their young children, Ray Davies announces from the stage that he is sick of the whole thing and is retiring. He then walks into a local hospital and collapses from an overdose of tranquillisers
1985 Nude photos of Madonna taken in 1977 appeared in this months Playboy and Penthouse Magazines.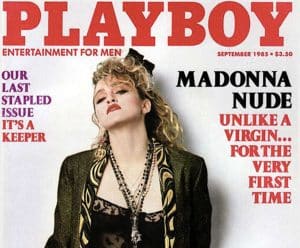 1989, Pink Floyd appeared in Venice, on a floating stage. Over 200,000 people attended the gig (almost double what had been planned for) causing damage to buildings and bridges. The concert was broadcast live on TV to over 20 countries with an estimated audience of almost 100 million.
1998, Aerosmith were forced to cancel a forthcoming US tour after Joey Kramer was involved in a freak accident. The drummer's car set on fire and was completely destroyed as he was filling up with petrol. He was admitted to hospital with second-degree burns
2000, A Manchester judge reprimanded Happy Mondays singer Shaun Ryder after he turned up a day late in court to give evidence. Ryder told the court he had been on 'a bender'.
2007, Over 10,000 people applied for a job with P Diddy after the rapper posted an advert on Youtube looking to find a new personal assistant. The job involves getting him ready for the red carpet to aiding in billion dollar deals to helping him jump out of planes in movies. (What an arse!)
2016, In what they famously describe as a 'conscious uncoupling,' Chris Martin of Coldplay and actress Gwyneth Paltrow officially divorce after more than ten years of marriage.
2018, 'November Rain' by Guns N' Roses became the first '90s video to pass a billion views on YouTube.
Happy birthday Linda Ronstadt and it would have been Ian Curtis' birthday today too.
Don't forget you can now get This Week in Music History every Friday from Nova.ie and Radio Nova.
To subscribe to the podcast, just click here