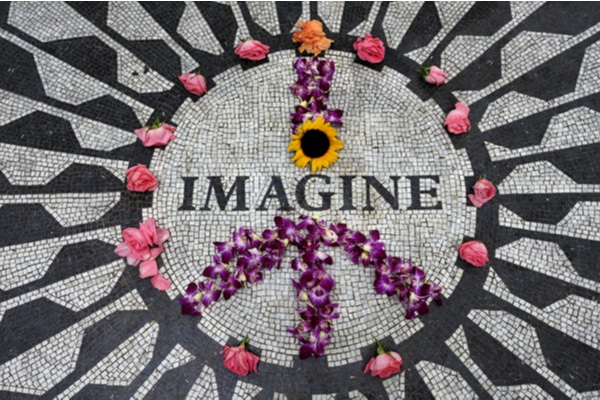 Every day on Radio Nova, just before 11am, we play a couple of songs key to "today in music history" Have a listen! But for now – here's some light reading and watching. July 22nd in Music History looks like this.
1965, Mick Jagger, Brian Jones and Bill Wyman from The Stones were each fined £5 at East Ham Magistrates Court, London, after being found guilty of 'insulting behaviour' at a service station. The three had all urinated against a wall after the service station attendant had refused them the use of the jacks.
1971, John Lennon and Yoko Ono were shooting the video for 'Imagine' at their house.
1973, David Bowie released the single 'Life On Mars'. The track which was first released in 1971 on the album Hunky Dory, features guest piano work by Yes keyboardist Rick Wakeman.
1977, 'My Aim Is True' the debut album from Elvis Costello was released. The musicians who were featured on the album were un-credited on the original release (due to contractual clashes), although the backing band was made up of members of the band Clover, who's members ended up in Toto, Huey Lewis and the News and The Doobie Brothers.
1996, Donovan was forced to postpone a comeback tour of the US because of a 30-year-old marijuana conviction in the UK. American authorities delayed granting him a waiver to enter the country.
2005, Research by a car insurance company showed that listening to the wrong sort of music when driving can lead to aggression and distraction. Dr Nicola Dibben a music psychologist said 'singing while driving stimulates the mind.' Songs recommended included Pulp's 'Disco 2000' and 'Hey Ya' by Outcast, but the Dr said songs like The Prodigy's 'Firestarter' should be avoided.
Eagle man Don Henley has a birthday today.
https://www.youtube.com/watch?v=f2wg_h4928M
Don't forget you can now get This Week in Music History every Friday from Nova.ie and Radio Nova.
To subscribe to the podcast, just click here