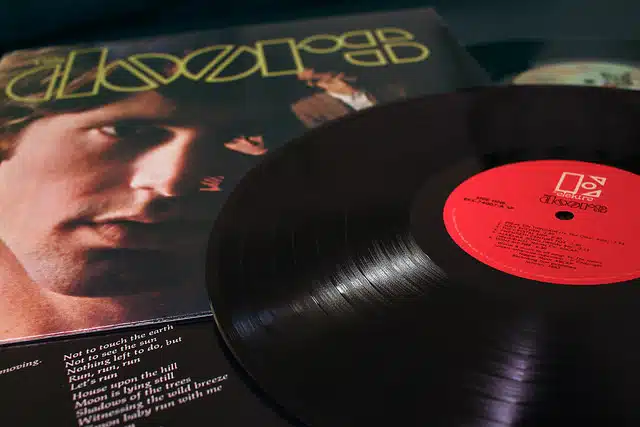 Would you like to listen to the article instead of reading it?
Every day on Radio Nova, just before 11am, we play a couple of songs key to "today in music history" Have a listen! But for now – here's some light reading and watching. September 20th in Music History looks like this.
1968, Led Zeppelin (recording under the name of The Yardbirds) started recording their debut album at Olympic Studios, Barnes, London, England. The album took only about 36 hours of studio time to complete at a cost of around £1,782, with most of the tracks being recorded 'live' in the studio with very few overdubs.
1969, During a meeting in London between John Lennon, Paul McCartney and Ringo Starr, Lennon announced he was leaving The Beatles.
1970, Jim Morrison of The Doors was acquitted on charges of lewd and lascivious behavior, but was found guilty of exposing himself during a concert.
1972, Paul and Linda McCartney were arrested for the second time in four weeks for possession of cannabis this time at their Scottish farmhouse in Campbeltown.
1975, 'Fame' gave David Bowie his first No.1 in the US. The song was co-written with John Lennon.
1976, AC/DC released their third studio album 'Dirty Deeds Done Dirt Cheap'.
2012, A house in London where original band members of Pink Floyd lived was bought by a Singaporean developer, not because he was a fan of the band, rather he wanted some investment properties so bought the old Floyd house and the one next door for £1.2m each. Roger Waters, Nick Mason,Richard Wright and Syd Barrett had all lived in the house in the '60s. The previous owner, lighting engineer Mike Leonard, was landlord and friend to the band and even inspired their earliest name, Leonard's Lodgers.
2020, American musician/singer Tommy DeVito died age 92 after contracting COVID-19. He was a founding member, vocalist, and lead guitarist of the Four Seasons.
Check out the weekly Podcast. Marty Miller's This Week in Music History.