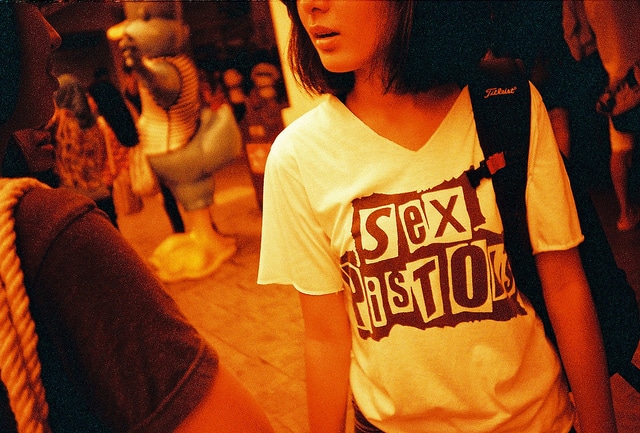 Every day on Radio Nova, just before 11am, we play a couple of songs key to "today in music history" Have a listen! But for now – here's some light reading and watching. November 26th in Music History looks like this.
We start in 1967, when the promotional film of The Beatles 'Hello, Goodbye' was aired on The Ed Sullivan show in the US. It was never shown at the time in the UK due to a musician's union ban on miming.
1968, Cream played their farewell concert at the Royal Albert Hall, London. The concert was filmed and released as Cream's Farewell Concert which has often been criticized for it's rubbish sound. During Ginger Baker's drum solo, he seems to change clothes at lightning speed due to careless post-editing!!
Watch! Blue shirt V's Sgt Pepper style thing. (9min mark!)
1976, Kevin Godley and Lol Creme left 10cc to work as a duo and concentrate on other projects including developing 'The Gizmo', a device used to make neo- orchestral sounds on a guitar.
1976, The Sex Pistols released the single 'Anarchy In The UK'. Originally issued in a plain black sleeve, the single was the only Sex Pistols recording released by EMI
1988, Russian cosmonauts aboard Soyuz 7 took into space a cassette copy (minus the cassette box for weight reasons) of the latest Pink Floyd album Delicate Sound Of Thunder and played it in orbit, making Pink Floyd the first rock band to be played in space. David Gilmour and Nick Mason both attended the launch of the spacecraft. Love how even in 88, it was a cassette!
1994, The Eagles started a two-week run at No.1 on the US album chart with 'Hell Freezes Over.' The album name is in reference to a quote by Don Henley after the band's breakup in 1980; he commented that the band would play together again "when Hell freezes over."
Willie Nelson was arrested for possession of six ounces of marijuana found in his tour bus while travelling from Los Angeles to Texas. He was released after paying bail of $2,500. Prosecutor Kit Bramblett supported not sentencing Nelson to jail due to the amount of marijuana being small, but suggested instead a $100 fine and told Nelson that he would have him sing "Blue Eyes Crying in the Rain" for the court.
2016, Punk memorabilia said to be worth £5m was set on fire in the middle of the River Thames in London. Joe Corre, the son of Sex Pistols manager Malcolm McLaren and fashion designer Dame Vivienne Westwood, burnt the items on the 40th anniversary of the Sex Pistols debut single. The 48-year-old told the crowd that "punk was never meant to be nostalgic".
Is it your birthday today? Did you know you celebrate with John McVie, Fleetwood Mac bassist.
Don't forget you can now get This Week in Music History every Friday from Nova.ie and Radio Nova.
To subscribe to the podcast, just click here