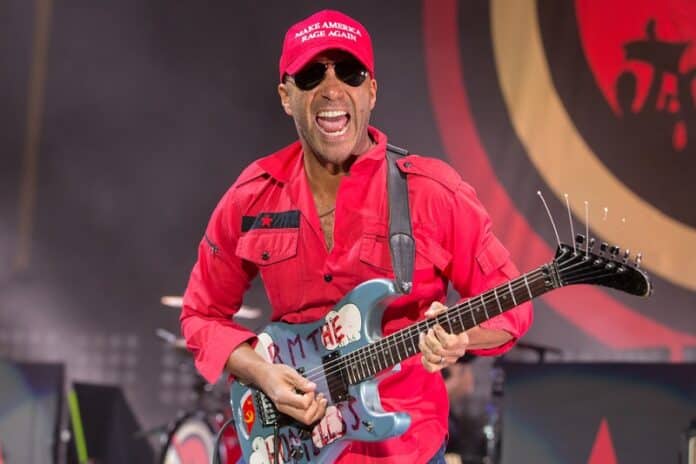 Tom Morello has recalled Rage Against The Machine's naked protest at the Lollapalooza festival in 1993.
The band walked out on stage naked with black tape across their mouths. They had the letters PMRC (Parents Music Resource Centre) taped on their chest as well. The protest was against censorship and lasted for the full 15 minutes the band were allocated.
Speaking in a new interview with Uncut magazine, Morello said "here was an outpouring of excitement among the crowd for the first five minutes. Then there was an interesting stand-off as it was clear this was not just some sort of quick stunt."
"Then then for the last five minutes there was outright hostility – booing and giving us the finger and quarter coins being thrown at our dicks". 
Morello then went on to add "The time I wish I had my pants on was when the police arrived."
He then revealed that he hid with members of the band Fishbone, because he knew he would be able to fit in.
"I ran to the only place that a naked black man might be undercover backstage at Lollapalooza, and that was the Fishbone tour bus".
"They were sitting around in various states of undress watching 'Star Wars', so I fit right in".
Rage were not charged by the police for their protest. They did return to Philadelphia to play a make up show for fans who were in attendance at the festival.
Looking back at the protest, Morello said "Hopefully in some way we made the point that controversial music is not something you can take for granted, you have to fight for it. Although people just remember us standing there naked".
Tom Morello has continued making his voice heard this year. He teamed up with Brave New Pictures to release a short film highlighting the Black Lives Matter movement. You can read Radio Nova's report on it here.