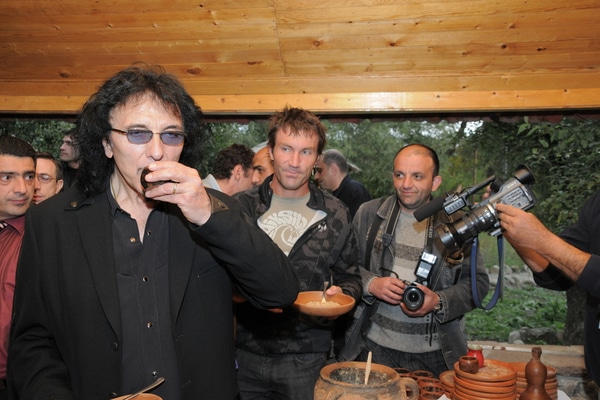 Iconic guitarist, Tony Iommi has revealed he has around "four or five hundred" guitar riffs ideas recorded on his phone. Speaking in a recent interview with Planet Radio, the Black Sabbath legend said he has riffs ready to be used.
Having just released a Sent of Dark last month, indications are good that Tony will reveal more new material soon. Sharing with host, Neil Jones, the veteran rocker said, "I've got so much stuff, I just wanna get started on getting it together now. Because my phone, there's four or five hundred riffs on it. And I've gotta get 'em off." [via Blabbermouth]
"It's getting around to doing it — that's the thing," Tony shares. "It's just an abundance.… The pandemic put a bit of a block on it, really. And I was working it out and the engineer was coming over and we were getting through some things. But then when that happened and you couldn't have anybody in the house or in the studio, it put the kibosh on that for a bit. And then I started getting involved in other stuff. And it's just kicking back on again. I've gotta get back into getting these things down properly."
One way Tony 'May' incorporate his toolbox of riffs into hit tracks, is teaming up with Queen's Brian May, who Tony Iommi recently named as his personal choice of Rock God. While guest speaking on the BBC's The Rock Show With Johnnie Walker, Iommi explains that May's "sort of sound and style really stood out to me when I heard the first Queen album".
"When I heard that album, I thought 'This is a really good band.' And a guitar player is always into other guitar players, and he had a sort of unique sound and the way that he played. I just liked it; it was appealing," Tony explains. "He's just got a certain character that you didn't really hear from anybody else; he's got something very 'him.' And as soon as you hear Brian now, anybody can pick him out."
Later in the interview, Neil Jones mentions the story of Metallica guitarist Kirk Hammett losing a phone with hundreds of his riff ideas on it. Chuckling, Toni replied, "I heard that. That must be awful. Somebody will nick my phone now!"