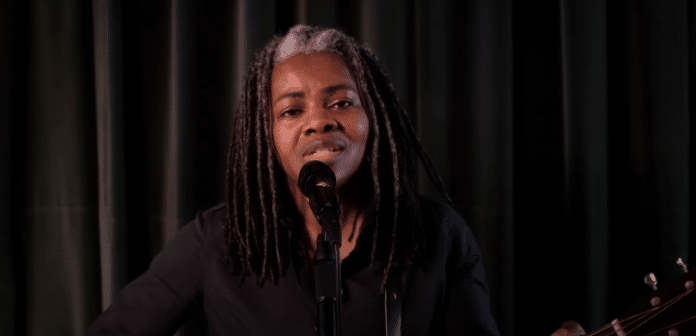 Tracy Chapman made her first TV appearance in five years, performing on the Seth Meyers show last night.
Chapman sent in a clip of her performing in front of a black curtain, singing her song 'Talkin' bout a Revolution'. Chapman's music is legendary and timeless, as her self title debut album ranks among some of the best albums ever produced.
The singer remains private and keeps her public appearances to a minimum. However, with the US election happening, she wanted to have her voice heard. She tweaked the lyrics to her song to comment on what's happening today.
Chapman sang "It's finally the tables are starting to turn, talkin' bout a revolution, oh no, talkin' bout a revolution, oh no, talkin' bout a revolution, go vote."
Once her performance finished, Chapman stepped away from the mic to reveal a sign that said, "Go Vote".
The singer echoed what Stevie Wonder said about this election. In a statement, Chapman said "This is the most important election of our lifetime. It is imperative that everyone vote to restore our democracy."
You can watch Chapman perform 'Talkin' bout a Revolution' below.
Seth Meyers added: "I've always thought Tracy Chapman's music skips your ears and goes straight to your heart. I'm so honoured and excited to have her on the show. She's living proof you can be a great artist while also speaking out for what you believe in."
The singer last appeared on TV in 2015 on 'The Late Show With David Letterman'. It was one of the last shows David Letterman had. Chapman performed a beautiful rendition of Ben E. King's song 'Stand By Me'. Check it out here.
Despite her limited public appearances, Chapman's music still resonates today and is adored by many. Her iconic track 'Fast Cars' has been covered by many artists including Khalid, Passenger, Black Pumas and Luke Combs.
"The guitar part on that song is super iconic, and everyone knows the song as soon as you start playing it. They know it, and they sing along. It's like 'Free Bird' or 'Jolene'" said singer songwriter Combs.
https://www.youtube.com/watch?v=R1P1g4C-Jjg&feature=emb_title