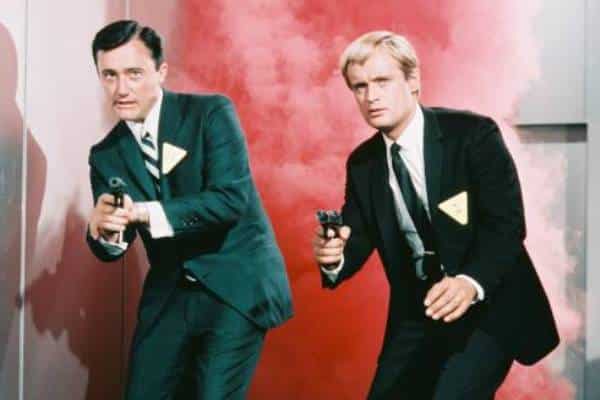 Would you like to listen to the article instead of reading it?
Warm tributes are being paid to Scottish-born actor David McCallum, who's died at the age of 90, surrounded by family at New York Presbyterian Hospital.
He was known for TV roles in iconic 60's show 'The Man from U.N.C.L.E' and more recent release 'NCIS', and also appeared in films including 'The Great Escape'.
His son, Peter McCallum, said in a statement made public by CBS: "He was the kindest, coolest, most patient and loving father. He always put family before self.
"He was a true renaissance man — he was fascinated by science and culture, and would turn those passions into knowledge.
McCallum, who was raised by classical musicians in Glasgow, first tried his hand at music before landing a job as an actor.
However, he would continue his music intermittently throughout his career, releasing four albums.
McCallum was known for his long-running role as a medical examiner on hit CBS' NCIS and for playing a secret agent in 1960s spy drama The Man From U.N.C.L.E..
As enigmatic Russian agent Illya Kuryakin in The Man from U.N.C.L.E., he gained a large following and became one of the biggest TV stars of the era.
He was nominated for multiple Emmys and Golden Globes before the series concluded in 1968.
He followed it up by playing an RAF officer in the BBC's iconic drama Colditz, which was filmed at the infamous German POW camp.
McCallum would work with Joanna Lumley as a time-traveling agent in Sapphire & Steel in the 1970s, in which the pair were tasked by an unidentified authority to protect time.
On the big screen, McCallum played parts in films like A Night to Remember, The Great Escape, and The Greatest Story Ever Told.
Additionally, he made appearances in TV shows The Outer Limits and Perry Mason.
Many of those close to McCallum flooded the internet with tributes.
NCIS co-star Wilmer Valderrama, who plays Nicholas Torres, posted on Instagram: "David, what an immense honor it was to share the screen with you.
"Your professionalism and ability to effortlessly take every one of us on a journey through your art will be felt forever," he wrote.
Meanwhile, on Instagram, Emily Wickersham also remembered her co-star with a still from the series,
"Had the pleasure of working with David for many years and he was the utmost professional and a true legend."
Another NCIS co-star, Michael Weatherly, posted a picture of McCallum and Steve McQueen from The Great Escape that was signed.
"David McCallum made every moment count"."I've only got three autographs. [Sean] Connery, Tony Bennett and McCallum," he continued.
"I felt the same way as Steve McQueen in this picture from The Great Escape: Wow! It's David McCallum! No one did it better."