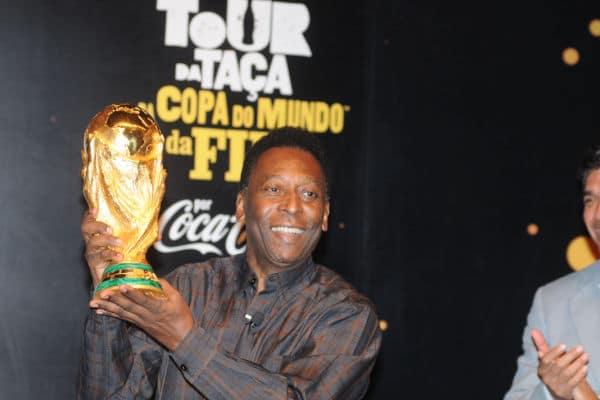 Brazil football legend Pelé, hailed by many as one of the greatest players ever, has died at the age of 82.
Having scored 1,281 goals in 1,363 games for club and country, Pelé helped his native Brazil to three World Cup triumphs, with the first one coming in 1958, where he scored two goals in a 4-2 victory over host nation Sweden in the final.
He was only 17 years old at the time!
In total, he scored 77 goals in 92 appearances for Brazil, with 12 of those goals coming in World Cup matches.
Pelé went on to win the Jules Rimet Trophy with the Selecao in 1962 and 1970. Having been plagued by injury in 1962, Pelé played a key role in Brazil's 1970 triumph, scoring the opening goal in a 4-1 victory over Italy in that decider.
That 1970 Brazil side has been viewed by many as the greatest team ever assembled.
Pelé also enjoyed a hugely successful 18 year spell with Brazilian club Santos, winning 6 domestic league titles and 2 Copa Libertadores.
Having finished his playing career in the USA with New York Cosmos, Pelé retired in 1977.
"Forever"
News of Pelé's death was confirmed last night via his official Twitter account. The football legend passed away, following a battle with cancer.
"Inspiration and love marked the journey of King Pelé, who peacefully passed away today. Love, love and love, forever", the account said.
His daughter Kely Nascimento paid homage to her father.
"Everything we are is thanks to you. We love you infinitely. Rest in peace", she said.
A inspiração e o amor marcaram a jornada de Rei Pelé, que faleceu no dia de hoje.

Amor, amor e amor, para sempre.
.
Inspiration and love marked the journey of King Pelé, who peacefully passed away today.

Love, love and love, forever. pic.twitter.com/CP9syIdL3i

— Pelé (@Pele) December 29, 2022
Football pundit Gary Lineker also penned this tribute.
Pele has died. The most divine of footballers and joyous of men. He played a game only a few chosen ones have come close to. 3 times he lifted the most coveted gold trophy in that beautiful yellow shirt. He may have left us but he'll always have footballing immortality. RIP Pele

— Gary Lineker 💙💛 (@GaryLineker) December 29, 2022
Current Brazil number 10, Neymar, who also became the country's joint leading scoring of all time alongside somebody he hailed as the "King", paid tribute to the icon via Instagram.
"'Before Pelé, 10, was just a number'," Neymar, who also played for Santos wrote.
"I've read this phrase somewhere, at some point in my life. But this sentence, beautiful, is incomplete", he added. "I would say before Pelé football was just a sport. Pelé has changed it all. He turned football into art, into entertainment".
"He gave voice to the poor, to black people and especially: he gave visibility to Brazil. Soccer and Brazil have raised their status thanks to the King! He's gone but his magic remains. Pelé is forever". 
Gone, but never forgotten ❤

— FIFA World Cup (@FIFAWorldCup) December 30, 2022
Pelé was one of the greatest to ever play the beautiful game. And as one of the most recognizable athletes in the world, he understood the power of sports to bring people together. Our thoughts are with his family and everyone who loved and admired him. pic.twitter.com/urGRDePaPv

— Barack Obama (@BarackObama) December 29, 2022
"One day, I hope we can play football together in the sky" – Pele's message after Diego Maradona died in 2020.

Enjoy your game, legends 🙏 pic.twitter.com/t0l88bpILD

— GOAL (@goal) December 29, 2022
The player, The man, The icon@Pele https://t.co/wnPUKGVtk9 pic.twitter.com/5nnRytFffL

— Rio Ferdinand (@rioferdy5) December 30, 2022
News of Pelé's death comes two years on from the death of another football legend Diego Maradone passed away in 2020.