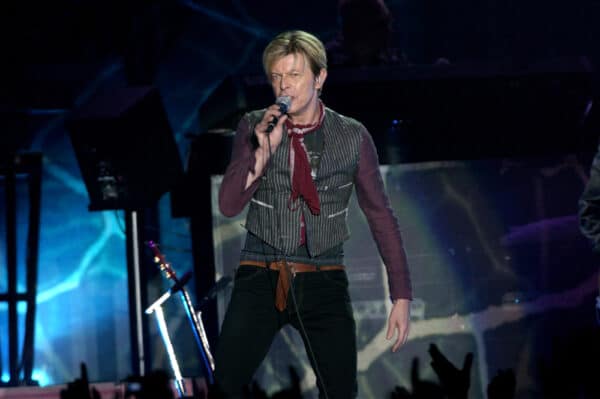 We have all the Bowie news this week and it makes us extremely happy! A trio of Bowie recordings are being released next month.
The recordings include both live and studio sets made between 1978 and 1982 and they'll be made available to the public on June 29th from Parlophone.
Welcome To The Blackout Live In London '78, Christiane F. Wir Kinder Vom Bahnoff Zoo and In Bertolt Brecht's Baal will revisit the prolific period between 1978 and 1982 where the main man released two classic albums, embarked on a world tour and created works for both film and television.
The new releases begin with the CD and digital debut of Welcome To The Blackout (Live London '78). This live album features performances recorded at Earl's Court in London on June 30th and July 1st, 1978 during Bowie's 'Isolar II' Tour. The music was released earlier this year on vinyl as a strictly limited-edition triple-LP set for Record Store Day 2018.
Tony Visconti, who produced more than a dozen albums for Bowie throughout his career, recorded the 1978 concert which was later mixed by Bowie himself and David Richards. The set naturally focuses on songs from the two albums Bowie released in 1977 – Low and Heroes as well as other earlier career highlights such as Fame, Ziggy Stardust, The Jean Genie and Station To Station and the first ever live performance of Sound And Vision included in this set was its debut live performance. Welcome To The Blackout (Live London '78) will be available as a two-CD set as well as digitally for download and streaming in both standard and high-definition versions.
Christiane F. – Wir Kinder Von Bahnoff Zoo is the soundtrack to the 1981 film based on the 1978 autobiography by German actress Christiane Vera Felscherinow. The soundtrack incorporates songs from several Bowie albums, including Stay, Warszawa, V-2 Schneider, and Look Back In Anger. Released on vinyl for the first time in 30 years, the fan favourite will be pressed on limited edition red vinyl and available exclusively at 'brick and mortar' retail stores.
While David Bowie In Bertolt Brecht's Baal features Bowie performing five songs that were written for German playwright Bertolt Brecht's 1918 play 'Baal'. Bowie recorded the EP with Visconti at Hansa Studios in Berlin in November 1981. Recently, all five songs were re-released as part of the exclusive Re:Call 3 compilation that accompanied the boxed set, A New Career In A New Town (1977-1982). The new limited edition 10" vinyl reissue comes in a six-panel sleeve that replicates the original 1982 packaging and is also available exclusively at 'brick and mortar' retail stores.