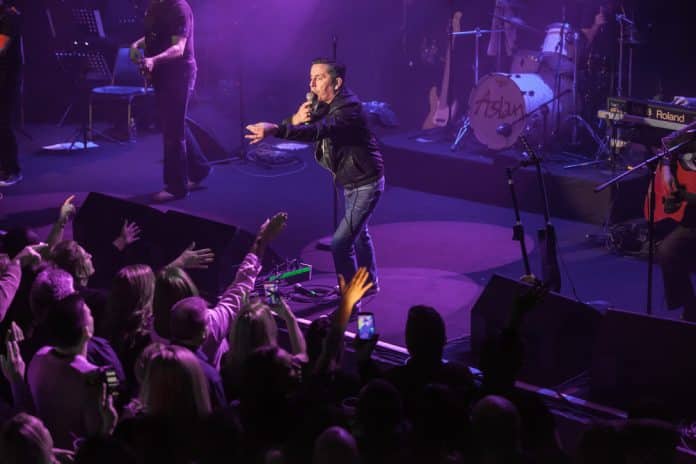 We hit up Vinyl over the weekend – and if you didn't make it, shame on you – it's one of the coolest new festivals on the Irish music scene and naturally, Aslan were there.
The celebration of VINYL invited the audience to sit amongst some of the greatest stars of several musical eras and genres for a conversation about their shared love – vinyl.
On Saturday, May 5th Aslan were joined by Tom Dunne for an hour long chat about their journey through song and it was incredibly entertaining to say the least.
To quote Christy Dignam, when the band were young they were 'full of youth and vinegar' which spurred them on to believe in themselves that little bit more and take the leap into a full-time outfit.
From rehearsing in a pig-sty to giving up a 'pensionable' career, talks of social welfare signings, moving equipment around in Superquinn trolleys and Bono being late for meetings – there was no stone left unturned.
However, there was something specific which caught our attention – the band's take on Crazy World.
Crazy World is an iconic song taken from the album Goodbye Charlie Moonhead. It'll be around for years to come, and in the 25 years since it's release it remains as relevant now as ever with even the guys sharing the sentiment 'a great song is timeless'.
Nonetheless, we found out pretty quickly that it definitely isn't number one on the list for the Aslan boys with both Christy and Billy agreeing they didn't think it would be as successful as it became.
Christy may have the quote of the year in stating:
"Crazy World is a shit song. It's bigger but not better than This Is."
Ironically, most artists over the weekend seemed to share the same sentiment in regards to their own songs, with many feeling their most popular tunes were not their greatest.
Do you agree with Aslan? Moreover, do you think many band's have had their greatest songs over shadowed by a good tune?