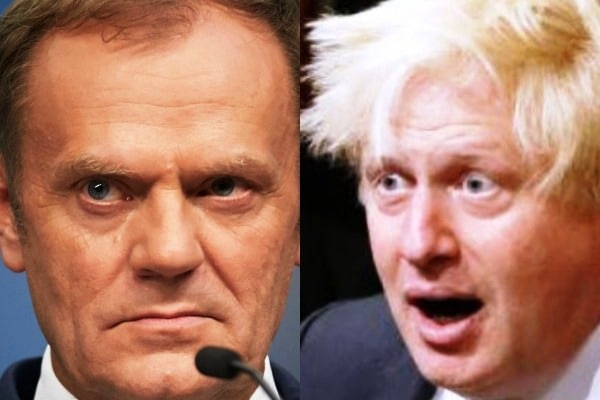 The European Council President says a letter he received from Boris Johnson offers no "realistic alternatives" to the backstop.
Donald Tusk has rejected the British Prime Minister's demands for major changes to the measure. Just before twenty past eleven this morning, Donald Tusk tweeted this:
The backstop is an insurance to avoid a hard border on the island of Ireland unless and until an alternative is found. Those against the backstop and not proposing realistic alternatives in fact support reestablishing a border. Even if they do not admit it.

— Charles Michel (@eucopresident) August 20, 2019
In no uncertain terms, Mr. Tusk has told Boris Johnson that the EU is not for turning when it comes to the backstop.
In his letter yesterday, Mr. Johnson said he's willing to explore "creative solutions" as an alternative:
I have written to @eucopresident about key aspects of the UK's approach to Brexit, problems with the "backstop" & the Government's commitment to the Belfast (Good Friday) Agreement whether there is a deal with the EU or not.https://t.co/7JYdIsZdjB pic.twitter.com/Sc6WjDPdkw

— Boris Johnson (@BorisJohnson) August 19, 2019
With 72 days until the October 31st deadline and the EU not budging on the backstop, it looks as if Boris and co. will need to find the "alternatives" they say can be part of the backstop solution, sooner rather than later.
The Tanaiste and Minister Foreign Affairs has expressed his disappointment at the UK Governments position on the backstop in a call with the Brexit Secretary.
A Downing street spokesperson today reiterated the position that unless the Withdrawal Agreement is reopened and the backstop abolished there is no prospect of a Brexit deal.
Simon Coveney and Steve Barclay spoke by phone for around half an hour today. The call has been described as friendly however Minister Coveney expressed his concern at the lack of alternatives to the backstop put forward by the British Government. Minister Coveney will travel to the North later for talks with the Northern Secretary.