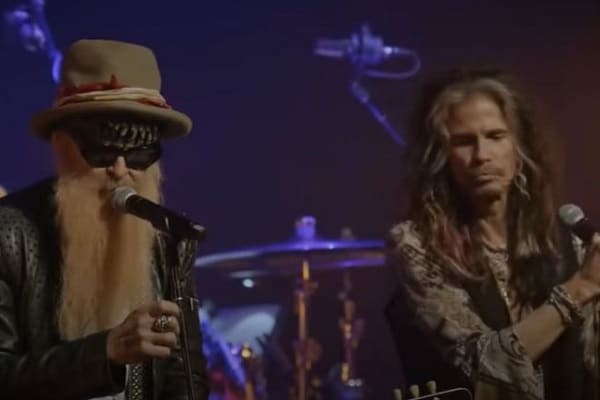 Rockers, Steven Tyler and Billy Gibbons paired up for renditions of Peter Green classics for the Mick Fleetwood & Friends show. A new clip from the night has now been made available, with the Aerosmith vocalist and ZZ Top guitarist saluting Peter Green.
The footage shows Tyler and Gibbons trade lead vocal duties on the 1969 Then Play On cut, while Gibbons performs on guitar. The ZZ Top frontman laid down some gained-up electric guitar lines with former Fleetwood Mac six-stringer Rick Vito. The pair also played out a powerful cover of Oh Well, a Green-penned 1969 single for Fleetwood Mac, and Rattlessake Shake at London's Palladium.
The footage is taken from the star-studded Peter Green tribute event, which took place on February last year. The show saw performances from Tyler and Gibbons, Kirk Hammett, David Gilmour, John Mayall, Jeremy Spencer, Christine McVie, Zak Starkey, Pete Townshend, Noel Gallagher and more. The show is being released as Mick Fleetwood & Friends Celebrate The Music Of Peter Green And The Early Years Of Fleetwood Mac.
Mick Fleetwood & Friends Celebrate The Music Of Peter Green And The Early Years Of Fleetwood Mac is available in three editions: a quadruple vinyl version, a 2CD/BluRay edition that includes a 20-page Mediabook, and a Super Deluxe edition that features a 44-page hardback book with notes by Anthony Bozza, co-author of Mick Fleetwood's memoir Play On: Now, Then, and Fleetwood Mac.
The book will also contain event photos, and quotes from Tyler and the other artists who appeared on the night. All three editions are now available to order from the Mick Fleetwood & Friends store. The Mick Fleetwood And Friends event took place just five months before Green passed away in his sleep on July 25th, aged 73.
Meanwhile, Tyler's band and rock legends, Aerosmith have postponed their UK arena shows until 2022 and have also self-confirmed their slot at next year's Glastonbury Festival. The band was due to play a host of dates but had been curtailed because of the coronavirus pandemic.