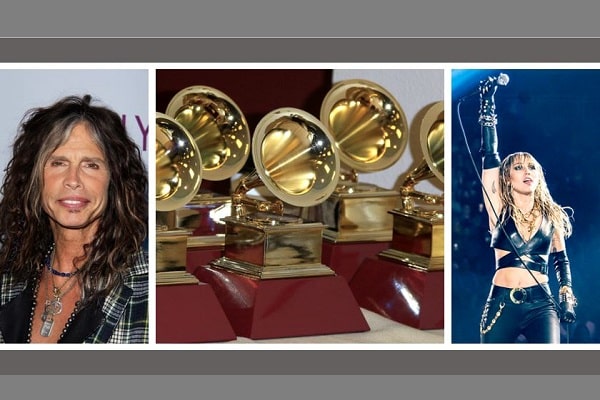 Steven Tyler has asked former Disney star and musician, Miley Cyrus to perform at the Aerosmith singer's annual, star-studded Grammy Awards viewing party. Sunday, April 3rd will see some very exclusive guests attend the 73-year-old Aerosmith music legend's fourth annual celebration at the Hollywood Palladium.
While the Grammys have shifted from Los Angeles to Las Vegas amid the COVID-19 pandemic, Live Nation will host the annual event. Attending guests can indulge in a cocktail hour, seated dinner, live auction, viewing party of the Grammys, and an after party entertained by Cyrus.
"The support that this Grammy Awards Viewing Party has received is incredibly moving, and we can't wait to continue the tradition this year," said Tyler per a press release. The Aerosmith singer said he is looking forward to an incredible night and reuniting with long time Janie's Fund supporter, Cyrus.
"Miley joined me in this important work when we launched Janie's Fund in 2015 and is a powerful voice and advocate for women. I can't think of another artist that better aligns with our mission," Tyler declared.
Tyler created Janie's Fund in partnership with Youth Villages to bring hope, healing and resources to girls suffering the trauma of abuse and neglect. The event's chairs include Aerosmith, Alice Cooper, Ashlee Simpson and Evan Ross, Caitlyn Jenner, Hilary Roberts, Jason Wahler, Jim Carrey, John Paul and Eloise DeJoria, John Stamos, Kayte and Kelsey Grammer, Melissa Joan Hart, Michael Rapino, Paula Abdul, Randy Jackson, Sharon Stone, Shep Gordon, and Terry and Rebecca Crews.
Tyler's viewing party has played a big part to the success of Janie's Fund with massive contributions made over the years. To this date, the annual bash has helped raise over $7.6 million for the charity. Accompanying the special charity, Janie's House had been created two years after Janie's Fund had begun. More information about the event can be found here.