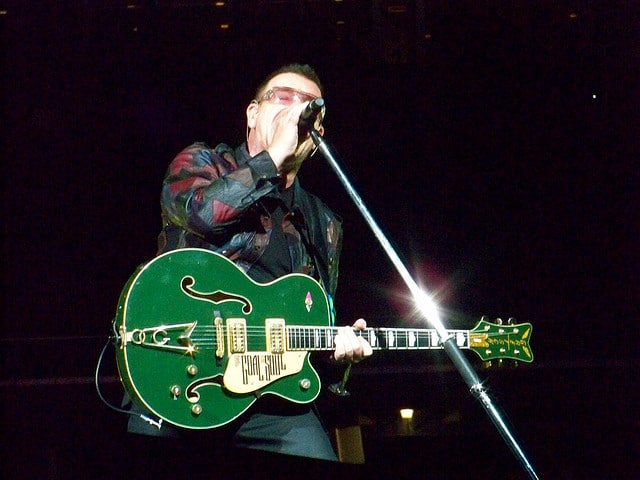 U2 are coming home!
Bono & Co are pencilled in to play three live shows at the 3Arena in Dublin before Christmas this year, with speculation that demand will result in more dates being added.
U2 are kicking off their iNNOCENCE and eXPERIENCE World Tour on May 14th on the back of the release of their Songs of Innocence album, released late last year.
And if you are going to see U2 live this year, chances are you won't be seeing Bono play guitar.
The front man has admitted he's still suffering with hand trouble five months after falling off his bike in Central Park in New York.
He suffered serious injuries after the accident in November including a facial fracture, three fractures to his left shoulder and a fracture of his upper arm which left the bone shattered in six places. He had to undergo five hours of surgery but has been left still unable to move two of his fingers.
In an interview with The New York Times earlier this year, Bono said: "It feels like I have somebody else's hand…This is the hard bit because I can't play guitar."
Speaking about the accident on www.u2.com Bono says: "The real injury…was to my Irish pride as it was discovered that under my tracksuit I was wearing yellow and black Lycra cycling shorts. Yes, LYCRA. This is not very rock 'n' roll."
"Recovery has been more difficult than I thought… As I write this, it is not clear that I will ever play guitar again. The band have reminded me that neither they nor Western civilization are depending on this."
No specific dates are available yet for the Irish leg of iNNOCENCE and eXPERIENCE 2015, which sadly by the sounds of it, will be minus Bono's guitar.
Check him out sporting one in 'With Or Without You' video below…