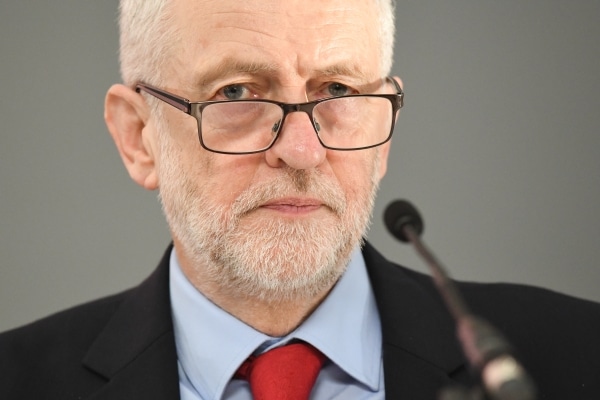 Jeremy Corbyn says our government should be involved in stalled talks to form a new administration in the North.
The power-sharing executive fell apart in January last year. He wants the British Irish Intergovernmental Conference – which last sat in 2007 – to reconvene.
Mr Corbyn urged Stormont leaders and the UK and Irish governments to renew efforts to restore power-sharing at the crisis-hit institutions in Belfast, insisting peace cannot be taken for granted.
He was giving a lecture at Queen's University in Belfast to mark 20 years since the signing of the Good Friday Agreement.
The UK Labour leader says politicians need to look to the Good Friday Agreement for inspiration:
"The British government is making a mess of these negotiations. Week after week it becomes clearer and clearer that they are too divided to make the right choices and too weak to get a good Brexit deal. They are negotiating with themselves, not the European Union.

Driven by the free-market fantasists within their ranks, the reckless Conservative approach to Brexit is a very real threat to jobs and living standards here in Northern Ireland, and risks undermining and destabilising the cooperation and relative harmony of recent years.

So let me be clear, Labour will not support any Brexit deal that includes the return of a hard border to this island. We are also clear there must be no effective border created in the Irish Sea either. That is why Labour has put forward a plan that would go a long way to solving this issue, a plan for which I believe there is a majority in Westminster.

By negotiating a new and comprehensive customs union with the EU, which includes a British say in future trade deals, we can ensure trade on this island stays frictionless and free flowing and prevent communities being divided.

That, coupled with a new relationship with the single market, based on protecting and improving existing standards and rights, shows how Labour has the best plan to avoid the return of a hard border and achieve a Brexit deal that protects and delivers for all our people."
He added:
"Let's not give up years of hard fought cooperation and stability for the pipe dream prize of race-to-the-bottom free trade deals with the likes of Donald Trump.

Opposition to the idea of bringing back a hard border to this land isn't just about avoiding paperwork or tariffs, important though that is, it's about deep rooted cultural and community ties.

An open border is a symbol of peace, two communities living and working together after years of conflict, communities who no longer feel that their traditions are under threat."