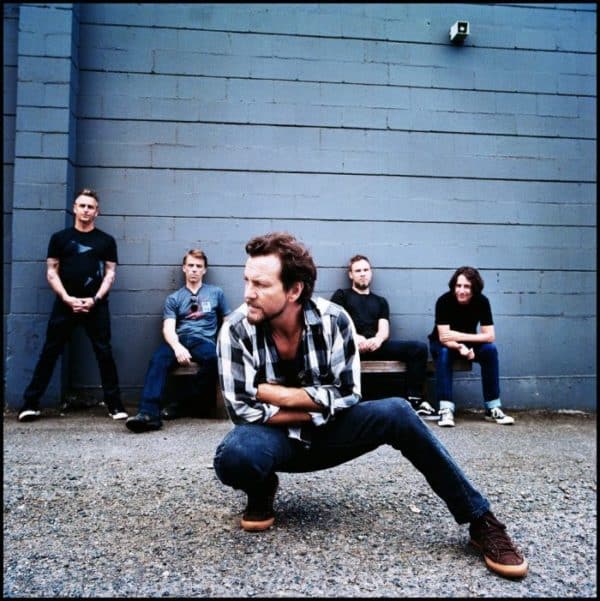 Pearl Jam kicked off their summer 2018 European tour on Tuesday night at the Ziggo Dome in Amsterdam, Netherlands. The rockers dedicated the performance to celebrity chef Anthony Bourdain, kicking off the show with 'Long Road.' See the setlist and watch videos of the show below.
With house lights on, the band  appear onstage and Eddie reads a message mostly in Dutch also offering his condolences to Bourdain's family. There's also videos of the band playing 'Alive' and 'Given to Fly' below.
Celebrity chef and food critic Bourdain passed away last week. The 61-year-old's body was discovered in a hotel room in France where he'd been filming for CNN. The television network has confirmed he took his own life.
In a statement they described him as a unique storyteller who will be very much missed. His profile began to soar when his hugely popular book 'Kitchen Confidential' was made into a TV series. He was also known for shows including A Cook's Tour – Anthony Bourdain's No Reservations and The Layover.
Queens Of The Stone Age's Josh Homme appeared on Anthony Bourdain's No Reservations back in 2007 with all of QOTSA. Homme was also guest on Bourdain's show to the High Desert in Southern California.
According to Loudwire, it wasn't widely known about Bourdain but the man was a punk rocker at heart. He was one of the lucky ones to experience New York City's punk rock boom in the '70s and wrote about his experiences of the scene. You can read more about that here.
Here's Pearl Jam's Amsterdam setlist:
01. Long Road
02. Low Light
03. Elderly Woman Behind The Counter In A Small Town
04. Corduroy
05. Do The Evolution
06. Given To Fly
07. Mind Your Manners
08. Red Mosquito
09. Wishlist
10. Even Flow
11. Severed Hand
12. Not For You
13. Daughter / Another Brick In The Wall Part 2-(Waters) 30 seconds lyrics only changes line to "Preacher Leave Those Kids Alone".
14. Again Today