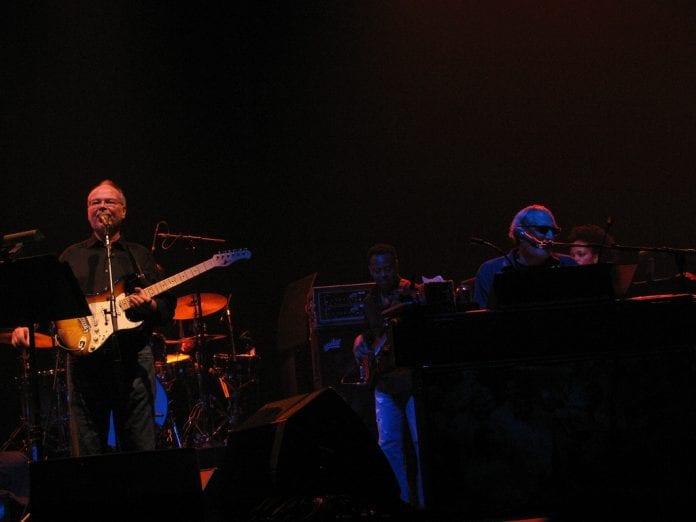 Yesterday we heard the news of Steely Dan co-founder Walter Becker's death. The musician was just 67 years old when he passed away yesterday morning. His passing was announced on his official website with no cause of death or other details.
Becker's band-mate, Donald Fagen penned a tribute to Becker following his death. "Walter Becker was my friend, my writing partner and my band-mate since we met as students at Bard College in 1967. He was smart as a whip, an excellent guitarist and a great songwriter. He was cynical about human nature, including his own, and hysterically funny."
Becker's absence from Steely Dan's Classic East and West concerts in July was was due to his recovery from an unspecified ailment. Fagen spoke to Billboard at the time, telling them, "Walter's recovering from a procedure and hopefully he'll be fine very soon."
The two band-mates first met at college in New York. After working as songwriters for a few years the pair moved to California in the early Seventies. It was then that they formed Steely Dan with fellow band-mates Denny Dias, David Palmer, Jim Hodder and Jeff "Skunk" Baxter.
Steely Dan had a rotating collection of musicians, but Becker and Fagen remained the group's core members. Steely Dan's albums were described as being 'sophisticated albums with calculated and literary lyrics that blurred the lines of jazz, pop, rock and soul.'
Speaking to Rolling Stone in 1974, Becker said "I'm not interested in a rock/jazz fusion. That kind of marriage has so far only come up with ponderous results. We play rock & roll, but we swing when we play. We want that ongoing flow, that lightness, that forward rush of jazz."
He also added, "I learned music from a book on piano theory. I was only interested in knowing about chords. From that, and from the Harvard Dictionary of Music, I learned everything I wanted to know."
Lots of musicians have expressed their grief at the musician's passing, including Beck who covered one of the band's tracks at a Detroit gig last night. Beck was opening for U2 on their Joshua Tree Tour at Detroit's Ford Field. 'Beck and his band were in the midst of "Where It's At" when he told the crowd "We lost somebody today. Walter Becker from Steely Dan passed away."' He then announced "we'd like to play a little something in tribute," and lead the band into a few bars of Steely Dan's hit "Josie" before going back to "Where It's At."
It is unclear whether or not the band's upcoming Dublin gig will go ahead, but we'll be sure to let you know as soon as we hear.
Photo Credit: Randy Reichardt