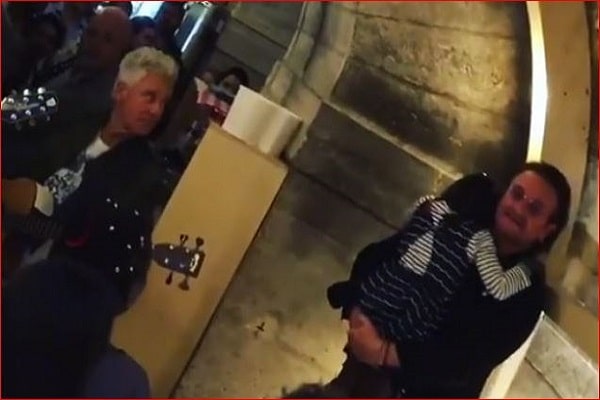 Amazing fan footage has emerged of Bono singing a child to sleep at an intimate U2 gig in Paris over the weekend. The Irish rockers were playing a special acoustic gig at the Refettorio restaurant in the country's capital. That was part of the Food for Soul project for people in difficulty in Paris.
The group were in France on their eXPERIENCE & iNNOCENCE Tour and were requested by leading international chef Massimo Bottura to perform an extra performance at the chef's restaurant. During a version of their classic track, 'One', a young child in the audience began to cry. Bono picked up the girl, cradles her and helps her relax by continuing to sing along with The Edge and Adam Clayton.
U2 kicked off their mega-European tour earlier this month. The Dublin band were forced to cancel the second show of the tour after Bono lost his voice during a show in Berlin. Bono made a quick recovery and released a statement promising that the show will go on once he is better. Bono said: "I've seen a great doctor and with his care I'll be back to full voice for the rest of the tour.
"So happy and relieved that anything serious has been ruled out. My relief is tempered by the knowledge that the Berlin audience were so inconvenienced. There was an amazing atmosphere in the house, it was going to be one of those unforgettable nights but not for this reason. We can't wait to get back there on November 13th."
U2 are due to conclude the European leg of their tour by performing four homecoming gigs at the 3Arena on November 5, 6, 9 and 10.
You can check out this story as well as others in Nova's Seriously Addictive Music News below!