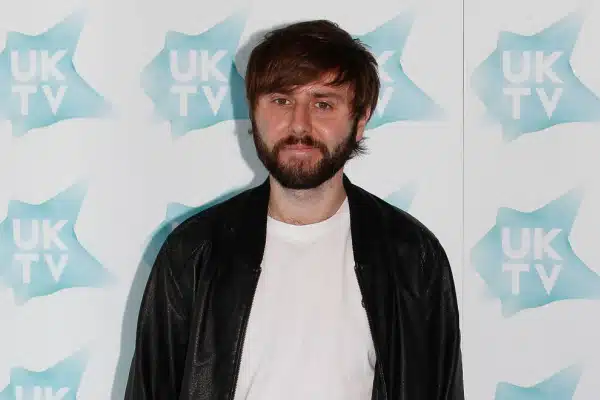 Would you like to listen to the article instead of reading it?
James Buckley has shared a video of him learning the Blur track 'Coffee & TV' with his son Harrison. You can check this out below.
The British actor, who played Jay Cartwright in the hit noughties E4 comedy, The Inbetweeners, shared the clip via social media.
The video shows Buckley playing guitar and singing, with his son Harrison on bass. Buckley can be seen fully in the camera, while Harrison's fingers can be seen on the fretboard.
In the video, Buckley can be heard saying, "We've had Blur fever in the house, but Harrison especially has found a new appreciation for Alex James [Blur bassist]". He also added that Harrison has been "working really hard on it".
The clip also shows Buckley telling his son that he has a solo to perform at the end, before pranking him by farting.
You can check the video out for yourselves here.
"Harrison's amazing on bass. He's got the walking bass to a tee. You need to work on the solo though", one fan commented via Instagram.
Another added, "Harrison is brilliant, fart was impressive".
"Road is clear" For Oasis To Reform Says Blur Singer
Speaking of Blur, their frontman Damon Albarn is has stated that "the road is clear" for Oasis to reunite.
The singer had previously stated that he would "put money on it", a few months earlier.
"I can guarantee they're going to reform", Albarn said when asked about the likelihood of the Gallaghers patching things up at the time. "In fact, I've put money on it".
"They're brothers and it would be wonderful to see them reconcile", Albarn continued. "The only funny thing is that our two nights at Wembley will be dwarfed by their SEVEN!".
He has since doubled down on these words, adding, "Well, of course they were gonna. The road is clear for them to do that now. I think that's great. You know what I mean? Obviously I expect an excellent new record to accompany it".
More on this from Nova here.