National Geographic on Sky will take viewers inside the Gibson USA Factory at the brand's headquarters in Nashville, for "Made In A Day".
Filmed on location in the Fall of 2019, "Made In A Day", Episode 2 featuring Gibson guitars will air on Thursday, August 13 at 930pm DUBLIN time.
In this new series exploring cutting-edge manufacturing in an inter-connected world, Gibson's huge cultural significance in America will be celebrated as the show follows the guitar-building process from creation and production to transport, covering the entire evolution and journey of Gibson's famous Les Paul electric guitar.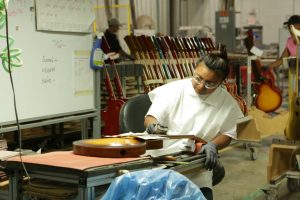 "Made In A Day" talks with Luthiers (guitar designers) and the Artisans that hand-craft the guitars as they follow the process through how they make these iconic instruments. A combination of hand-crafting skills, high-tech machinery, and global logistics come together to bring Gibson's Les Paul electric guitar to the world's stage. At the end, viewers will see the finished guitars loaded up and have a bird's-eye view with a world map where the guitar goes on its journey to its, ultimate final destination.
The iconic, American-made instrument brand, Gibson has been creating, inspiring, and contributing to the 'share of sound' for 126 years. After more than a century, Gibson artists, players and fans continue to experience the #1 guitar brand rejuvenated. Gibson is played by the best and brightest artists, across generations and genres and has emerged as the most relevant, most played, and most loved guitar brand around the world.