John Fogerty and his three youngest children — dubbed Fogerty's Factory — have posted the latest video of them performing in quarantine. This time out, Fogerty chose his 1997 Blue Moon Swamp favorite "Blueboy," featuring Fogerty with his sons and bandmates, Shane on guitar, and Tyler on bass, along with daughter, Chelsea on brushes and snare.
"We have had so much fun creating these videos. We hope we could bring some joy into your home from ours. These videos were a labor of love, only produced with a few folks with social distancing and masks included! We were able to create these videos without a big production or overdubs straight from our own home. Fogerty's Factory will be taking a hiatus for a while as one of the band members, Kelsey is off to college! We plan to bring all our fans more in the future. Stay tuned for the announcement and special plans for Fogerty's Factory in the coming month," Fogerty posted in a message to fans on his YouTube page.
On May 28th, John Fogerty's 75th birthday, he released an EP of songs featuring him performing some of his classic tunes with three of his kids, called, Fogerty's Factory.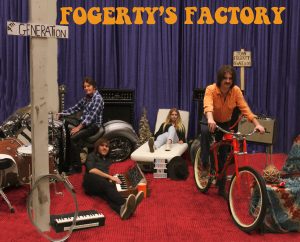 For the new set, the Fogerty's recreated Creedence Clearwater Revival's legendary 1970 album, Cosmos Factory. For the album cover, Fogerty enlisted his kids to replace his former bandmates in the exact same spot they sat 50 years ago. Fogerty's brother Bob — who shot the original photo — returned to do the honors.
As John explained back with the first video release, when the Stay at Home order began: "Bringing a little light from our home to yours. We are having a little family fun together during the pandemic. It's such a great feeling to be making and playin' music surrounded by love. We all need to celebrate the life we have and remember how precious it is. I love music, I am listening every day. Makes everything feel better for me. Put the records on, pull out the old guitar, turn the radio up.. and dance to the music!"