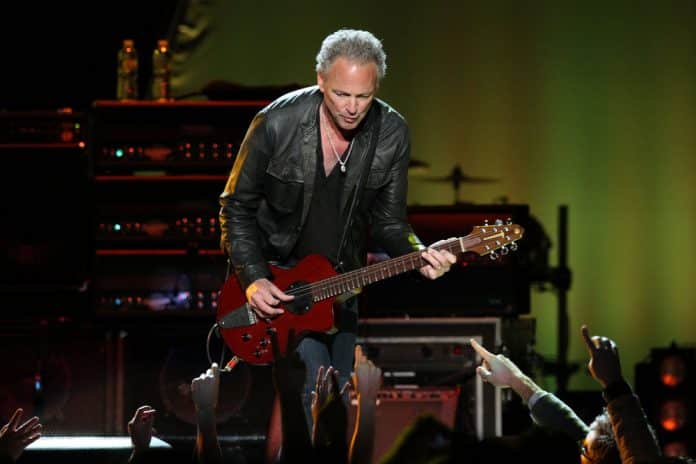 Lindsey Buckingham has performed live on Zoom, marking the first time he's sung "in public" since his 2019 bypass surgery.
In addition to performing several songs acoustically — "Trouble," "Never Going Back Again," "Shut Us Down," and "Big Love" — Buckingham also revealed his new self-titled solo album will be released next spring.
https://youtu.be/x1xGUkc19JQ
During his chat, Buckingham spoke about the ongoing pandemic as being just one more curve ball thrown his way in recent times.
"This is sort of, like, a continuation of a couple of years previous in which things occurred that I did not see coming. One was my split from Fleetwood Mac, another was having a bypass operation, which I did not expect to happen. There's a lesson to all of that. In a world where we do as much as we can to try to control our environment and to try and control our circumstances within that environment, there are things that are going to happen that, that you cannot control." he said.
Lindsey Buckingham also spoke about the bright side to these troubled times, "There certainly is a lesson in acceptance there, but there's also a lesson in looking for what is really essential within those circumstances. And obviously what comes to light is that yes, I've got my talent and I value that greatly, and I value the choices I've made. Beyond that, I'm here, every day with my wife, and my children and that is the gift."
Lindsey Buckingham's triple-disc solo career retrospective Solo Anthology – The Best Of Lindsey Buckingham is out now. It includes such favorites as "Trouble," "Go Insane," "Holiday Road," and "Countdown," along with key tracks from all his studio albums — Law And Order, Go Insane, Out Of The Cradle, Under The Skin, Gifts Of Screws, and Seeds We Sow.
A third disc features 2011 live renditions of such Fleetwood Mac classics as "Never Going Back Again," "Big Love," "Tusk," "I'm So Afraid," and "Go Your Own Way." Also included are two previously unreleased songs — "Hunger" and "Ride This Road."