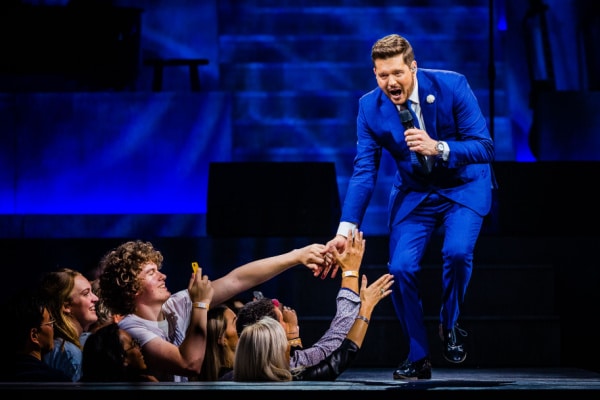 Would you like to listen to the article instead of reading it?
Over the weekend, Foo Fighters invited Canadian singer Michael Bublé on to the stage for a live cover of his 2009 hit 'I Just Haven't Met You Yet'.
Footage of this live collaboration which you can check out below, shows Bublé being invited onto the stage by Foos frontman Dave Grohl, who was unsure of the song's lyrics.
Foo Fighters were performing a live set at the Outside Lands festival in San Francisco over the weekend, which saw the band treat fans to live covers of tracks from artists that new drummer John Freese had previously worked with.
John Freese was confirmed as the band's new drummer, following the death of Taylor Hawkins last year.
"This motherf***** better know the song"
This impressive repertoire of artists on the John Freese CV also includes Nine Inch Nails, A Perfect Circle, Devo, and of course Bublé.
Foo Fighters' recent shows have seen the band perform a string of tracks from such artists, including Michael Bublé, in particular 'I Just Haven't Me You Yet'.
Noticing a member holding a 'I ❤️ Bublé' sign, Dave Grohl asked the singer onto the stage, while failing to reveal his true identity to the crowd.
"This mother****** better know the song", Grohl told the audience.
It turned out that the Foo Fighters frontman did know some of the lyrics at least, altering the words 'I Just Haven't F***** You Yet'.
The singer continued, "I'm just gonna tell you something, and I'll make it fucking clear because we don't have a lot of time, for real, we've been doing that thing where people from the audience come up and say 'I know that f****** song,' and they walk up and they know the first verse, they don't know it".
He added, "So this bad-ass mother****** – and I'm not even kidding – flew in today from Argentina to f****** sing that song to you guys. Because there's no such thing as taking a joke too far".
Check out this footage for yourselves below.
Last month, Foo Fighters paid tribute to the late Sinéad O'Connor with a live cover of the singer's track 'Madinka', alongside Alanis Morisette.
Check that out here.